by Nina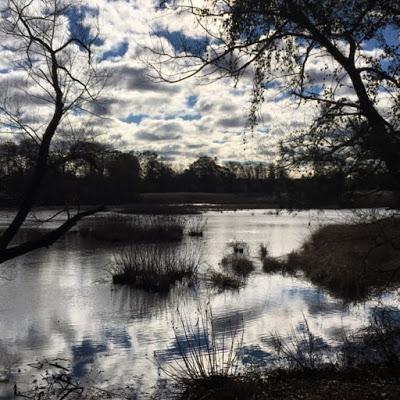 Morning Sunlight by Evelyn Zak
While some blogs are the work of a single person, this one, with our five posts a week on a range of topics that include aging theories, asana practice and individual poses, pranayama and meditation, stress management, brain health, cardiovascular health, medical conditions, ayurveda, yoga philosophy, and mindfulness takes an entire team of people, all of whom do their work as a labor of love. So on this American Thanksgiving Day, I thought I'd take a moment to thank all of the people who contributed to our blog over the last year. 
First of all, a big thank you to our current staff: Baxter Bell, Ram Rao, Beth Gibbs, Jill Satterfield, and Jivana Heyman. What an amazing range of expertise, dedication, and talent you contribute week in and week out! (To learn more about any or all of these people, see About Us. To see articles by any particular contributor, you can search the archives using their name because I tag all posts with the authors names, with the exception of Friday Q&A posts, sequences, and pose descriptions.) 
Next I'd like to acknowledge all the guest writers who wrote posts for us in the past year. This has been as an especially fantastic year for this type of contribution, and many of the writers were really going out on a limb to write for the first time and often about very challenging topics. Today I'd like to thank each of you by name.
Lucy Weir for Yoga for Ecological Activism 
Gwenn Marie for My On Again, Off Again Yoga Practice and The Pursuit of Less: Putting Aparigraha into Action 
Rachel Zinman for Yoga for Diabetes: A Personal Journey 
Erin Collins for A Hospice Nurse on Yoga for Grief 
Charissa Loftis for Three Steps for Working with Anger 
Robin Sturis for Yoga for Grief, Anger, and Shame 
Richard B for Yoga and Recovery 
Yoriko Matsumoto for Serendipity: Discovering Yoga for Depression 
Lisa Wendell for The Reality of Grief 
Shelly Prosko for The Benefits of Practicing a Toilet Meditation 
Caroline Kades for Yoga for Arthritis: Caroline's Story
Elaine Jackson for Yoga for Road Cyclists 
Anna Guest-Jelly for Accepting You Body 
I hope I didn't overlook anyone by accident! If your name is missing, please let me know so I can add it. 
Finally, I'd like to thank Marie Lossky, Melina Meza, and Sarit Z Rogers for allowing me to use their photographs on the blog. I know having beautiful visual images really enhances the whole experience of reading a blog post. And I love searching through their photographs and then suddenly finding an image that—ding, ding, ding!—just seems to symbolize the theme of the post of the day. 
I'll end by saying that I'm grateful for and appreciate all you readers. As we continue to grow and more and more doors open for us (such as being invited to write a book and to conduct YFHA trainings), I never forget that it's only possible because you all are out there reading our posts, commenting on what we have to say, weighing in on Facebook, sending us your questions and concerns, sharing your photographs, and sometimes even just sending me fan mail (that makes my day, I can tell you).
Subscribe to Yoga for Healthy Aging by Email ° Follow Yoga for Healthy Aging on Facebook and Twitter ° To order Yoga for Healthy Aging: A Guide to Lifelong Well-Being, go to Amazon, Shambhala, or Indie Bound