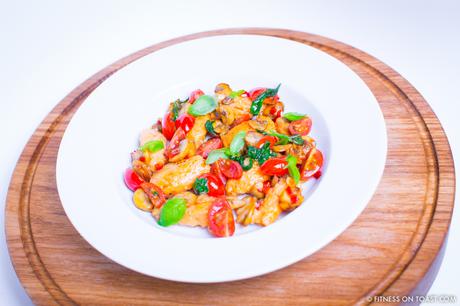 Humanity is pre-programmed to love the carby sensation of pasta – especially at this time of year, when the cold weather leads us crave it. Physiologically, it's thought that the body's asking for more Tryptophan, an amino acid which helps produce serotonin, which in turn regulates our mood, helps with digestion and sleep cycles. I'm often asked if I know any "healthy hearty meals", and whilst  the likes of spaghetti, creamy soups and breads don't typically come to mind, this post is an attempt to prove that hearty can be healthy! Click MORE for the recipe & how-to. 

So you've clicked more, suggesting you too crave the carbs – you're in good company! For this recipe, I'm using sweet potato as my main ingredient to create a hearty bowl of delicious gnocchi. Sweet potato is, as the name suggests, sweet – but weighs in surprisingly low on the Glycemic Index, with a high constitution of fibre and slow-releasing caloric energy, providing sustainable energy that carries you for longer than a low-fiber simple carb – just what you need on freezing London days like these! I've flavored the pasta with some fresh chilli, basil and garlic but it's entirely up to you – nutmeg, cinnamon etc… Get creative!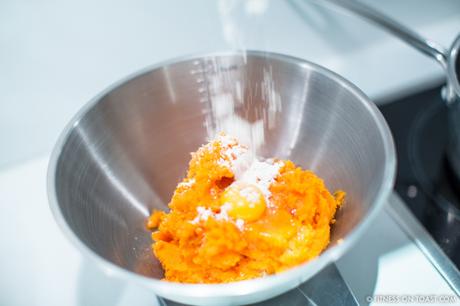 INGREDIENTS:
1) 2 large sweet potatoes (or c. 500g)
2) 1 large organic egg
3) Pinch of pink salt & pepper
4) 100g of quinoa flour
5) 150g rice flour
6) Sprig of fresh basil leaves
7) ½ finely chopped (de-seeded) chilli
8) 1tbsp coconut oil/avocado oil for frying
9) Goats cheese / parmesan
10) Mushrooms
11) Olive oil for drizzling
12) Handful of pine nuts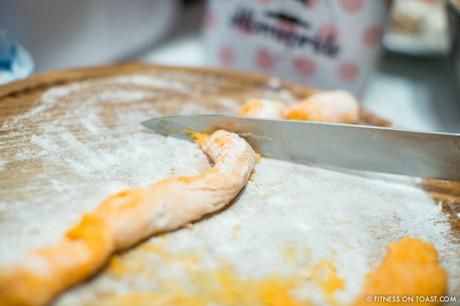 HOW TO?
1) Pre-heat the oven to 200 degrees.
2) Place the sweet potatoes on a sheet of baking paper.
3) Bake for 40 minutes, and check with a fork until tender.
4) Let the potatotes cool off and then remove the skins. Mash the inside with a fork until smooth.
5) Add the egg plus the crumbled goats cheese or alternatively parmesan, pink salt + pepper – beat together with a fork.
6) Finally add the flour – little by little until it's no longer sticky.
7) Flour a surface and roll the dough into long thin snakes. Cut the snakes into small even gnocchi-sized pieces.
8) Bring a pot of salted water to a boil. Add a batch of gnocchi to the water, one at a time. Cook for circa 5 minutes.
9) Then in a saucepan, fry one crushed garlic clove along with the chilli and some mushroom, and add the gnocchi.
10) Plate the gnocchi, garnish with the mushrooms, and sprinkle some goat cheese on top with fresh basil, pine nuts and drizzle of olive oil. Voila, cravings satisfied in a healthy way!!
Faya x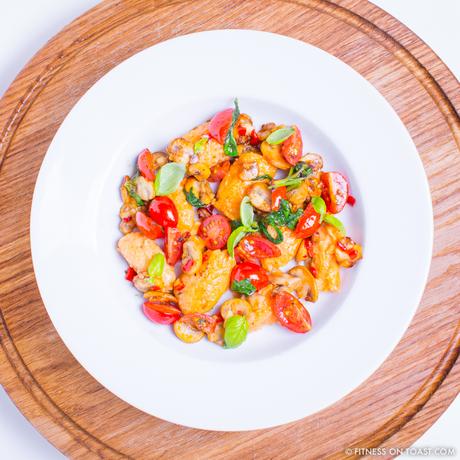 ________________________
YOU MIGHT ALSO LIKE: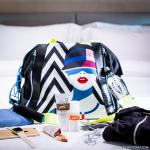 WHATS IN MY BAG?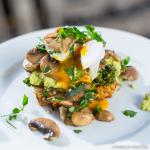 EGGS FROM FOREST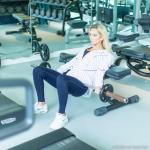 WAKE THE GLUTES!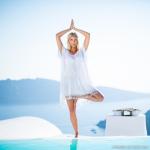 ACTIVE IN SANTORINI