I recently bought a whey product supplement from Target and wanted to give my impressions on it. It's a basic whey concentrate with a little bit of whey isolate. The calories are 50 more than typical whey proteins. 170 calories per scoop vs usually 110-130 calories. Either way it was kind of expensive in my area for just a 2lb tub at target was $21.39 if I remember right. Which clocks in over $1 per serving! The container only said 21 servings. While not my first choice this product will do the job in helping me reach daily protein goals until I get some new product in from either amazon or bodybuilding.com.
Lately I've tried the Signature Whey from bodybuilding.com and it was good flavor ( actually tested better than target brand) also cheaper and more servings. Win win overall. If you're in need of some whey protein while at the grocery store then this does the job at least for 3 weeks until you can get something better. Here is my YouTube Video review below if you'd like to watch that.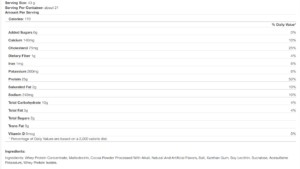 About Author

Lloyd L.
Thank you for visiting my website. My name is Lloyd and I live in Hawaii. I started working out in 2010. Read more on how I overcame adversity and transformed my life forever!