by Nina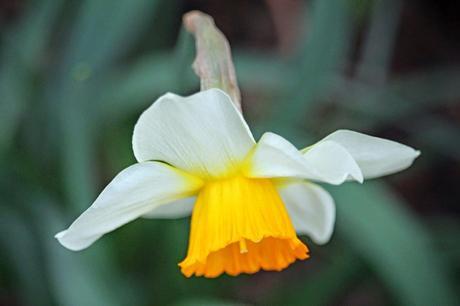 Daffodil by Melina Meza
As some of you may remember, during this last winter, Baxter and I became concerned about people we were hearing about who were afraid of leaving the house because they were worried about falling on the winter ice. Even worse, we heard about a couple of people who had fallen and who had then lost all their confidence in their physical abilities. The real problem here is that loss of confidence can lead to inactivity, and that inactivity in turn leads to stiffness, weakness, loss of balance and/or loss of agility. But we knew that yoga could help these people so we got started blogging!
First, Baxter wrote a general post about how you can use yoga to cultivate balance specifically for dealing with icy conditions (see Winter Ice, Fear of Falling and Yoga).
But I decided that I wanted to help a specific individual, a women who had left a comment on my post Regaining Stability for Free. Here is the original comment:

"Omgosh. I ....this took my breath away. This is exactly what happened to me! I was this vibrant, moving being....then a stupid, nasty fall (via a piece of gravel on the sidewalk) ended all that. And my subsequent life mirrors your friend's. Thank you SO much for giving us hope!"
So I followed up with this reader to find out more about her particular issues, and with Baxter's help I came up with three short yoga sequences for her to practice as a way to regain both her physical abilities and her confidence (see Starting to Move Again ). The three sequences were:
1. Baxter's classic Low Back Care Practice. Because our reader was having back problems in addition to fear of falling, I hoped this sequence would help relieve back pain and restore a feeling of physical wellbeing.
2. Baxter's classic Mini Restorative Practice . Because our reader was feeling anxious, I hoped this sequence would help relieve stress. And because she was stiff from lack of exercise, this sequence would allow her to gently and passively regain flexibility.
3. My Gentle All-Around Practice. Because the standing poses in this sequence build strength in the lower body and improve balance and stability, I felt this sequence would be helpful for our reader as well as for anyone who is afraid of falling.
My hope was that practicing these sequences on a regular basis would, over time, restore our reader's flexibility, balance, and feelings of self confidence, and allow her to be a "vibrant, moving being" once again.
Now that it's spring, I decided to check back in with her to see how the program had worked for her. The news was so good, I decided I had to share it with you. Here's what she said:
"The moment I started practicing, I knew that I had the tools to positively effect a change, and that translated, almost immediately, into regaining my confidence. And once I got my flexibility back, it was as if there was a mind-body reconnection as well. Although I sometimes backslide, when I do attend to the poses and sync my mind with my body, I feel pretty much invincible!"
I'm partly sharing this with you simply because it makes me so happy! But there is also an important takeaway: having a home practice, however basic, is empowering.