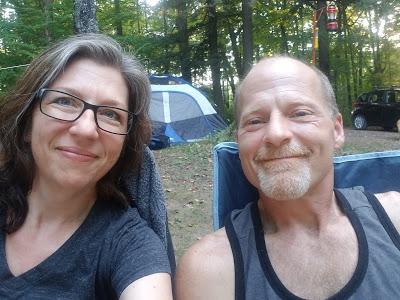 On an overcast, cool Tuesday in mid-September, we had the rare opportunity of having Spearhead Point Campground all to ourselves. By this time in the camping season, most campgrounds are empty mid-week but still get pretty good business on the weekends. We precisely planned our camping trip for Sunday-Wednesday in order to avoid crowds.
This experience allowed us the chance to wander through the campground with our dogs to do a review of the best sites available.
Mondeaux Dam Rec Area is in the Chequamegon National Forest and you can learn more about it by clicking this
LINK
. There are four campgrounds situated around the Mondeaux Flowage -
Spearhead Point
,
Eastwood
,
Picnic Point
, West Point - and the Ice Age Trail winds around the upper part of the flowage. There are tons of outdoor activities to be found here; we had a chance to hike, kayak, camp and fish during our trip.
This review focuses on Spearhead Point Campground since (in my opinion) it has the best campsites for the type of camping we like to do. There are Standard Sites, which are small basic campsites with a picnic table and fire ring. And then there are the Premium Sites, which are larger, more unique and come with waterfront access and their own little docks.
Since I think it's worth the extra $3.00/night for the Premium Sites, these are the only ones we would consider using if given the choice. Each of the premium sites is unique and offers a different experience. I'm not sure what the noise level would be like on a typical busy weekend since we were lucky enough to be the only ones in the campground, but the area seemed blissfully quiet - no traffic sounds or other loud noises. The only noise that kind of bothered me was from the apparent flight path over this region and the occasional rumble of jet planes going over... but nothing too terrible.
One of the things I didn't like about this campground were the high double-walled fire pits. I know they were probably installed with safety in mind, but it made it hard to enjoy watching the fire & coals flicker. You had to sit
really
 close if you wanted to see any of the campfire.
We camped at Site P15 and you can see additional pictures and videos about that site
HERE
.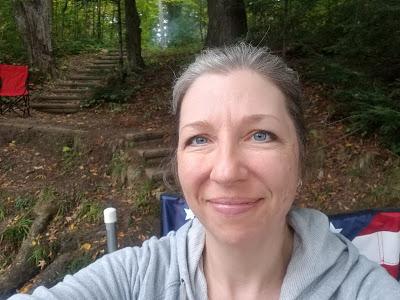 View of the steps leading up from our dock at Site P15.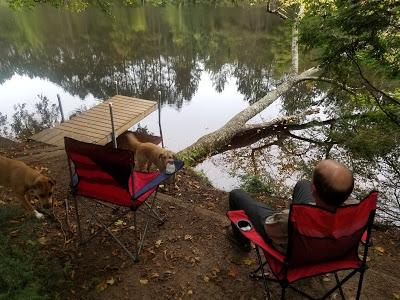 Nice little sitting area on the landing between stairs on our site P15.
Some of the premium sites, while nice, had something that we didn't like about it so we didn't review all of them; we only reviewed sites that we would want to use.
In addition to Site P15, these are the premium sites recommended by our experience:
Site P4 - Roomy, open, private with good views. The water was a bit mucky since it's located in the back bay of the point, but still pretty decent.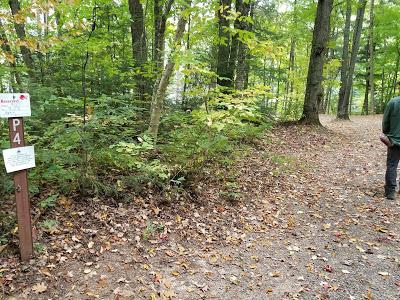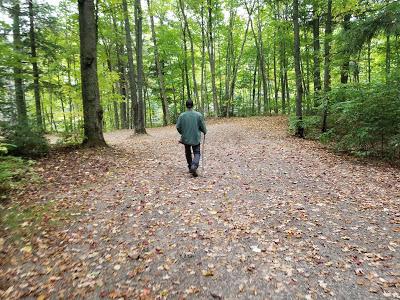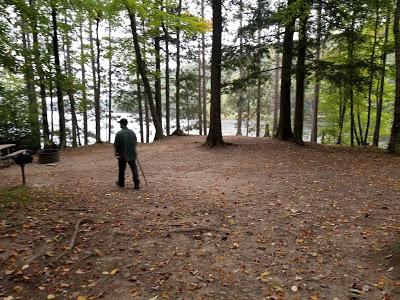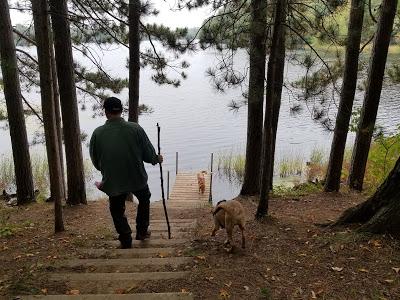 Site P8 - Very private, located on a little side loop off the main camp road, had a bit of a steep stairway to the dock and water was a little mucky but not terrible.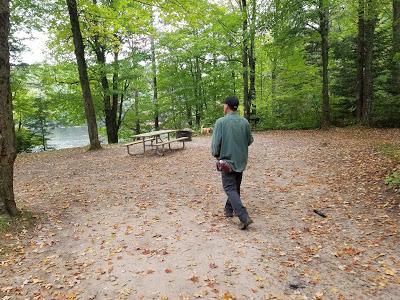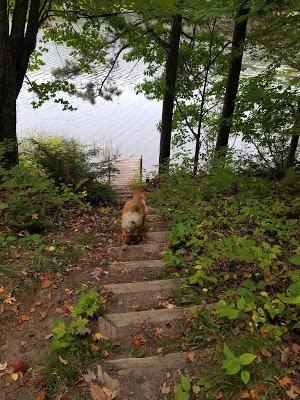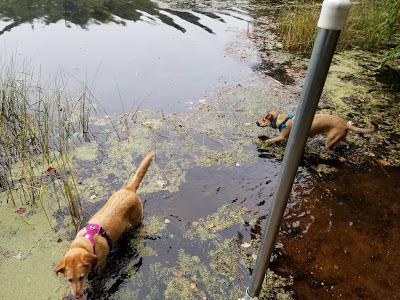 Site P12 - Low and wide with good tree spacing for rigging stuff like tarps or laundry lines. There's an "unofficial" trail that winds along the shoreline of the sites on the point and over to the mainland sites along the water (looks like a small deer trail, but people may use it for exploring?).
(Somehow I managed to
not
take any pictures of this site! It was right across the loop from our site and I suppose I figured I'd get some pics before we left and then I forgot. Rest assured this was a good site and probably the one I'd choose to stay next time)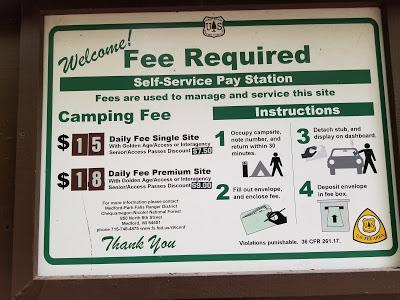 Site P14 - Looks small at first, but goes deep into the point. There are trails leading back into the point with an extra picnic table and sandy beach area by the shore, great views from the point, lots of room for kids to play or dogs to run around, very private.
Downsides: in addition to the steep stairs leading down to the main dock, the firepit is located right at the top of the stairs going down to the dock and site P13 is in fairly close proximity near the front of the campsite (but when you figure in how much room you have going out to the point, not so bad).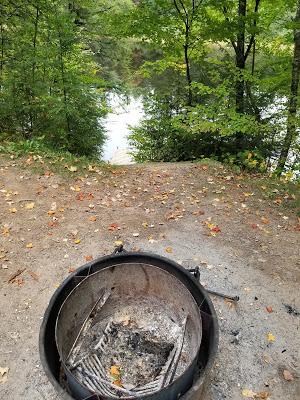 Firepit at top of stairs leading to dock down below.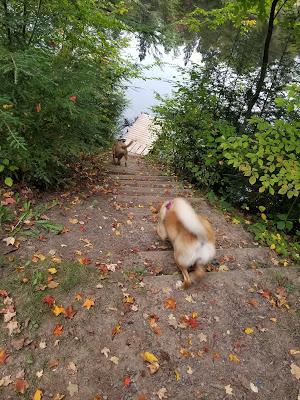 Steep stairs leading to dock below.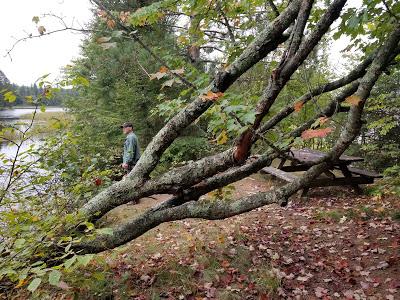 Additional (old) picnic table near shoreline and small sandy beach area toward point.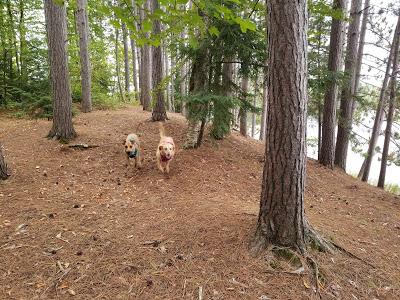 Wide open space at end of point to play and explore, including shoreline!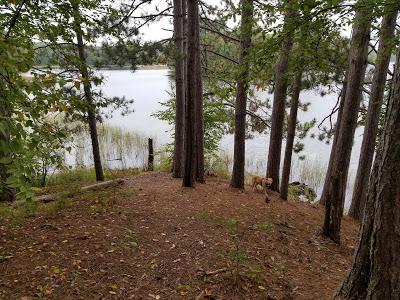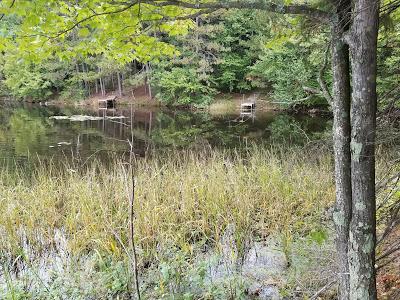 View toward main shoreline with other Premium Site docks.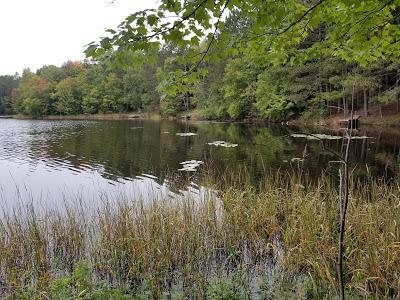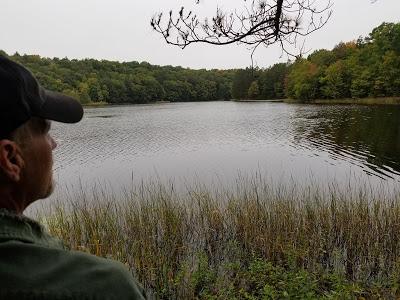 Great views from the point!
. . . .
This campground also has a day use picnic shelter with steps down to a wide dock that can be used by anyone and there's a small, shallow boat launch on the opposite side of the campgound that would really only be good for launching a canoe.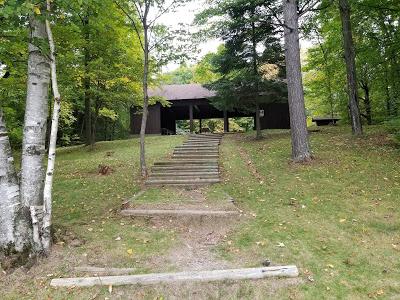 Day Use Shelter looking up from shoreline/dock area.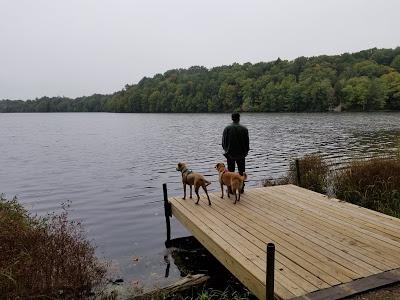 Dock at the Day Use Shelter.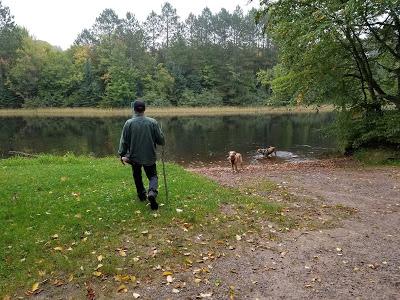 Boat launch area - very shallow water.
The Mondeaux Dam Lodge at the top of the flowage near the dam is currently closed due to needed repairs (so there's no access to hot food or showers), but there's a small shack in the parking lot that sells some food and drink items as well as firewood. Be sure to check the hours of operation to make sure you can get firewood before they close. We drove into Medford (the nearest town, about 30 miles away) one night to get burgers & fries and to use our phones (cell phone reception is spotty or non-existent at the campground).
One of the other cool things about this campground is that on the side of the road before you get to the entrance of the park, there's a "Nature's Faucet"... clean, cold, fresh water flowing from a glacial spring at the rate of 4.5 gallons per minute. You can fill up your water jugs there or just stop by for a quick drink. We used this water for all our cooking, drinking and washing while we were there. I even used some of this water to take back to camp and wash my hair with; it was heavenly!