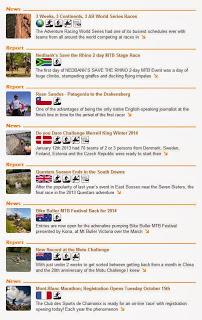 It's a rare day when we get a full house of national flags on the SleepMonsters home page, and today is one of those days.
We have;
France; Mont Blanc Marathon Registration opens
New Zealand; Motu Challenge Record by Richard Ussher
Australia; Bike Buller Festival Announcement
UK; Race Report from Questars Q2
Denmark; Merrell King Winter Race Preview
Chile; Ryan Sandes interviewed in Patagonia by Anne-Marie Dunhill
South Africa; The Save the Rhino ride
Global; The latest AR World Series newsletter
It's a great mixture of stories on running, riding, adventure racing and multi-sport, with some impressive pictures to back them up.
The 'rules' of SleepMonsters bingo are that I'm not allowed to cheat and put  up stories just to get a full house ... truth is I have little idea what is going onto the website from one day to the next! It's not like there is grand editorial plan.
I do know there will be news of a winter race in Poland tomorrow, enough has gone up onto the site today, so I'll save that one for another day.