That's the opinion of Mikael Lindnord, the team captain of AXA adidas of Sweden. A former AR World Series Race Director he is a respected voice in the sport and once he gets going on an adventure racing topic is a passionate and forceful speaker.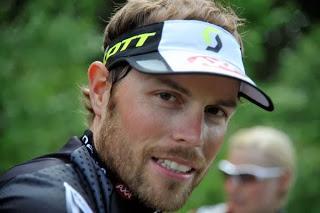 Talking at the AR World Championships in Costa Rica he told me he felt Adventure Racing had lost its way, lost the adventure, and was not tough enough anymore. (He wasn't talking about this particular race but AR in general.)
"I don't like the idea of so many short courses, so everyone can finish, and when they do they get the champagne and the celebration on the finish line," he said. "I think that is like a marathon runner calling  a taxi when they get tired at 15 miles, then jumping out to race across the finish line!  Adventure Racing  should be tough, the toughest sport, and if you don't manage to finish you should accept that and come back next time after training harder.
"All these short courses are there to try and please everyone, to give the idea anyone can do this sport, and doing that means Adventure Racing has lost its way and its identity. Now it's confused with multisport and even obstacle racing.
"Look at Triathlon, they make it harder and harder to get to Kona, and more and more people want to do it.  We need true qualification for the World Champs, so only those who are really capable are there, then there would be less need for short courses.
"When I started the sport Adventure Racing was tough, and uncompromising, and that made it appealing and successful. Recently it has lost its appeal and now it needs to go back to its roots to grow again."
It was an impassioned statement, and some other racers sat with us found it a bit shocking. They had not qualified for ARWC through the world series, but will be competing, and without being unfair, might well be short coursed.  One commented, "Well, that's me going home then!"
It's an uncompromising idea that could struggle to win widespread approval, not least from Race Directors who want to encourage more entries into their races. However, it was backed up when I spoke to Pascal Bahaud, the Race Director of the 2012 World Championships in France. He too felt the sport needed more adventure and less racing, and had lost something since the halcyon days of Eco-Challenge and Raid Gauloises. (Read the interview here.)
He put something of the spirit of Raid Gauloises into his World Championship race last year, which only 12 teams out of more than 60 finished, and this World Championships in Costa Rica is doing the same. It has a long course, long stages, and there is only one short course option which is two-thirds of the way around.
 So maybe the idea is gaining ground at the top level of the sport, and adventure racing is already moving back to its roots to rediscover its identity.