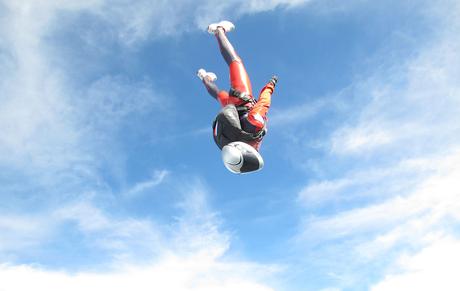 I had a curious email arrive in my inbox this morning. It announced an insane event that is scheduled to take place on March 25, 2016 at an as yet undisclosed location. That is when an unknown skydiver will reportedly leap from an airplane at 50,300 feet (15,331 meters) without wearing a spacesuit, oxygen mask, pressure suit, or parachute. They'll then plummet from more than nine miles up, into the ocean, in a place that is said to be teeming with great white sharks. The entire thing will be aired online as a pay-per-view event that will be sold for $15, with VIP tickets available for purchase for those who want to witness this strange occurrence live. Oh, and did I mention that the team behind this also claims to being doing it to raise awareness of water-related diseases which claim the lives of a child somewhere in the world every 60-90 seconds?
The even is being billed as the Death Challenge since the person making the jump seems to have very little chance of survival. After all, how is it possible that someone could fall from more than 50,000 feet up without a parachute and hope to survive? I suppose the organizers of the event are using that as selling point to get as many people to tune in as possible – at $15 a pop – with the morbidly curious hoping to see someone actually perish.
As if that wasn't enough, there will apparently be several "lifelines" that people watching on the Internet will be able to vote for or against. Those lifelines will reportedly offer the skydiver some things that could save his or her life, although ultimately it will be the audience that decides whether or not they receive them. Just what those things are has yet to be revealed.
The information I was sent about this event doesn't share the name of he person who is actually making the skydive. They only refer to him or her as "The Challenger." Why the shroud of mystery? That isn't clear, but I suspect it's because they don't actually have someone who is willing to commit to making the leap just yet, so their hedging their bets without sharing a name.
I have to admit, I was very hesitant about writing about the "Death Challenge" at all. On the one hand, this seems like a dangerous and stupid event that must surely result in someone either dying or getting severely injured. On the other, it is being billed as a way to raise awareness of an important issue, so I'm not really sure what to believe. All I know is that this "challenge" is marketing being pushed to the extreme, with the hopes of pulling in cash from those that can't wait to see someone else get injured or killed.
I've got to believe that there is something that the marketing for this event is not revealing just yet. Some way that the person who is jumping out of the aircraft will actually survive the fall. Perhaps they'll have a jetpack or special wingsuit to help with the descent. We all know that it is nearly impossible to survive a fall from that height without some kind of aid, even if you are landing in the water. After that, any sharks that are swimming nearby are least of the person's worries, as they're unlikely to attack a person anyway.
So, is this a marketing ploy taken to the extreme? A real event that is incredibly crazy? Something in-between? I guess we'll have to wait to learn more, but it certainly sounds very dubious to me.