May 4, 2012 by Tatianna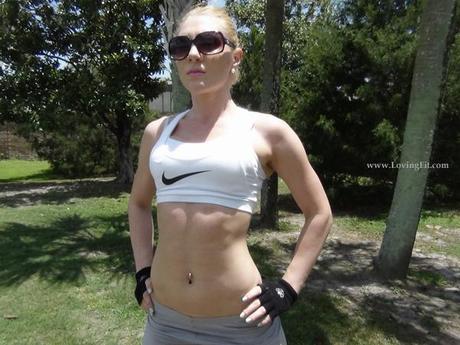 Hi Everyone,
I have another wonderful upper body workout for you. This routine was just wonderful and I enjoyed every minute of it. On the difficulty level from 1-10 I would give it a solid 6.7, but for some of you it can be harder. At first I was going to post the full uncut workout, which took me a little over 25 minutes to do. But with the workout recap in 2 languages the video turned out to be 40 minutes, I think it was bad planning on my part. As I started exporting it I realized it was going to take 10 hours to export and then about 10 or more hours to upload it to YouTube, so I went back and edited it with the usual format.
The question that I have for you guys is this, would you like for me to make full workout videos or edited videos with more explanations? Or if you have any format suggestions that would be great as well, at the end my goal is to do what you guys want to see and your opinion is very important to me.
Now let's workout !!! Wait… First do your warm-up!!!
Workout Explanation
Now since you've done your warm-up and practiced proper form of each exercise you are ready to begin! In this workout all I was using was my timer and a pair of 20 lbs dumbbells ( 10 lbs each ). This workout is a circuit training with only 4 exercises and 3 rounds total.
Set your timer as a stopwatch.
2 Push-ups on dumbbells and 2 side raises Combo ( the whole thing counts as 1 rep ) – 10 reps total
The Sun Exercise ( please watch the workout recap part of the video for proper explanations of this exercise, because it looks deceiving on video ) – 20 reps total
Reversed Bomber – 20 reps total
Open Star Abs Exercise – 20 reps total
It took me 25 minutes and 51 seconds to complete this routine.
After this routine I also did 15 minutes of light cardio, but this time I did something a little different then skipping, a little more fun. I set my timer for 15 minutes to count down, and I did rounds of light bodyweight exercises and I kept going until the timer stopped. So it went something like this: Crab Exercise 40 reps ( this is one of my favorite exercises ), Steady and Good Form jump over a brick 10 reps, jumping jacks 20 reps. That was a nice change from skipping, cause I was really getting bored with it. But you can pick any bodyweight exercises you like

.
Have a Wonderful Weekend Guys!!!
Hugs