Get in the holiday spirit with scrumptious gluten free Gingerbread Cupcakes topped with a drool-worthy, dairy free cream cheese frosting & gingerbread cookies.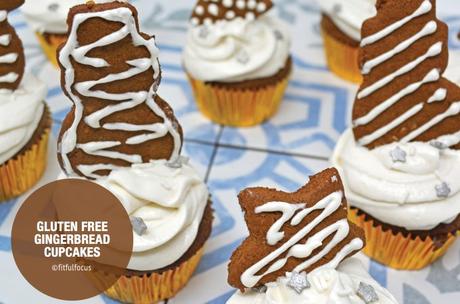 This post is sponsored by NOW Foods.
The holiday season is in full swing, which can only mean one thing: wintery recipes. After making these delicious Honey Roasted Almond Clusters, I've been in full holiday mode in the kitchen. I made latkes for Hanukkah, have been enjoying soups and chai lattes when it's chilly, and now it's time to get into all things gingerbread.
In years past, I've made this incredible gingerbread hot chocolate, these gingerbread energy bites, this gingerbread smoothie, gingerbread granola, and gingerbread sunflower seed butter. Since Mr. Gingerbread and I are clearly in a pretty serious relationship, I wanted to do something extra delicious with him this year. Hence, the creation of these Gluten Free Gingerbread Cupcakes topped with rich and oh-so-delicious dairy free cream cheese frosting and, wait for it.... gluten free gingerbread cookies!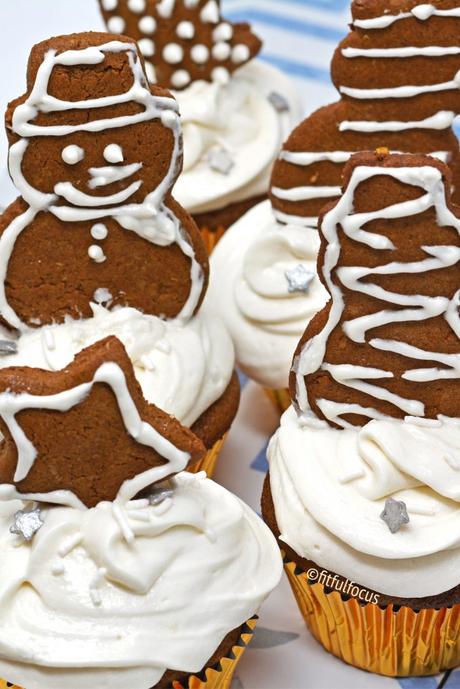 What do you need to make these gluten free gingerbread cupcakes?
Gingerbread spice is made up of some of the best spices out there: ginger (obviously), cinnamon, nutmeg, and cloves. When you combine those spices with the ooey-gooey-goodness of molasses and NOW Food's dark brown sugar, the flavor of holiday bliss starts to come alive.
Add in my favorite gluten free flour: NOW's Gluten Free All-Purpose, a little xanthan gum, and baking staples such as baking soda, baking powder, vanilla, eggs, oil, dairy free butter or margarine, and dairy free milk and you've got yourself all the fixin's you'll need for these delectable holiday treats.
For the frosting, you'll need dairy-free cream cheese (I like Daiya), powdered sugar and shortening.
RECEIVE $10 OFF YOUR NOWFOODS.COM PURCHASE OF $40 OR MORE (BEFORE TAXES AND SHIPPING) USING CODE NICOLENOW10 AT CHECKOUT.*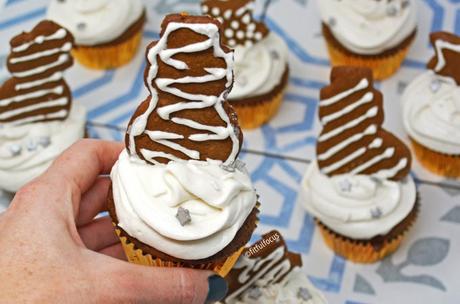 How do you make these gluten free gingerbread cupcakes?
I started by making the cookies. I actually made them the night before to split up all the baking. First, get out all your ingredients. Start by mixing the flour, xanthan gum, baking soda, baking powder, ginger, cinnamon, nutmeg, and cloves in a medium bowl. Then beat the dairy free butter, brown sugar, and eggs together. A stand mixer with a paddle attachment is great for this. Once that mixture is nice and smooth, add in the molasses and vanilla. I also like to add a little lemon zest.
Gradually mix in your dry ingredients. Then ball up the dough, wrap it in plastic wrap, and let it sit at room temp for 2 hours. You can also refrigerate it overnight. Just take it out in the morning and allow it to come to room temp before rolling it out.
Preheat the oven to 375 degrees and line a baking sheet with parchment paper.
Place your dough on a lightly floured surface. Sprinkle more flour on your rolling pin to avoid sticking. Roll out your dough until it's about 1/4 inch thick. Use your favorite gingerbread cookie cutter to cut out cookies, reballing and rerolling dough as needed. Place your cookies about 1 1/2 inches apart on the cookie sheet and bake for 9 minutes. This will create perfectly crisp cookies that will stand up on your gluten free gingerbread cupcakes.
Allow to cool and decorate as desired using your dairy free cream cheese frosting (more on that below).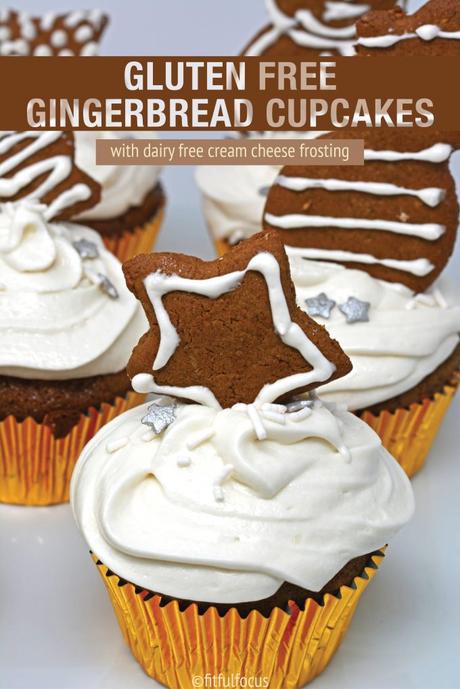 When it's time to make your cupcakes, get all your ingredients handy.
Preheat the oven to 350 degrees and line a muffin tin with cupcake liners. Spray the liners with non-stick spray.
Like the cookies, start by mixing the gluten free flour with all the other dry ingredients (except for the brown sugar). Then mix the brown sugar and butter together until nice and smooth. Slowly add the oil, eggs, and molasses. When everything is combined, slowly add your dry mixture. Add a little at a time and rotate with a little bit of dairy free milk, scraping down the sides as needed. When everything is combined into a beautiful batter, divide it evenly among the muffin tins. Each tin should be about 2/3 of the way full.
Bake for about 22 minutes or until a toothpick placed in the center of the cupcake comes out clean. Allow the cupcakes to cool completely before frosting them.
Speaking of frosting, get out your shortening, powdered sugar, vanilla, and dairy free cream cheese. Begin by whipping the shortening and cream cheese together until smooth. Mix in the vanilla. Add the powdered sugar about a cup at a time and whip until it's light and fluffy.
When your gluten free gingerbread cupcakes are cooled, pipe the frosting onto your cupcakes. Top with sprinkles (optional) and one of your gingerbread cookies. Then... devour!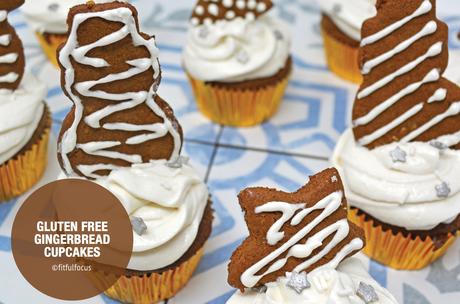 Ingredients
Instructions
Let's Chat:
Are you a gingerbread fan?
What gingerbread flavored treat should I make next.