by Nina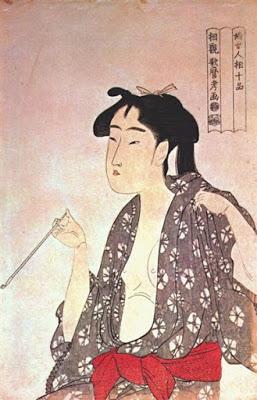 Woman Smoking by Kitagawa Utamaro
"Being out of shape could be more harmful to health and longevity than most people expect, according to a new, long-term study of middle-aged men. The study finds that poor physical fitness may be second only to smoking as a risk factor for premature death." —Gretchen Reynolds, New York Times 
Have you heard the phrase "Sitting is the New Smoking" yet? Because recently I've been hearing it more and more often. And although lthough Ram didn't use it in his recent post The Ill Effects of Prolonged Sitting he did say, "For people who engage in prolonged sitting activities, their risk of heart attack is about the same as smoking." 
His post cited three different studies that showed the dangers of spending too many hours a day sitting. (That post got me to spend more time standing up at my sit-stand desk!) Then just a week later I read a NY Times article Being Unfit May Be Almost as Bad for You as Smoking about a new study on the longevity of men who were active versus those who were inactive (they measured aerobic capacity to indicate the subjects' general level of activity and fitness). What was special about this study was that it focused on a large group of about 1,000 healthy Swedish men of age 50, and followed them through the rest of their life spans (45 years!). (Many of these types of studies in the past have been done on older people for much shorter periods of time.)
The conclusion of the study Low aerobic capacity in middle-aged men associated with increased mortality rates during 45 years of follow-up was this:
"In this representative population sample of middle-aged men, low aerobic capacity was associated with increased mortality rates, independent of traditional risk factors, including smoking, blood pressure and serum cholesterol, during more than 40 years of follow-up." 
And not only was poor fitness/low aerobic capacity second only to smoking as a risk factor for increased mortality, it was actually even unhealthier than high blood pressure or high cholesterol! Yes, the study found that the men who were rated as highly fit but who had high blood pressure or high cholesterol levels tended to live longer than men who were rated as "out-of-shape" but who healthy blood pressure and cholesterol levels. 
And although the study just focused on men (an ongoing problem in scientific studies), the NY Times reported that: 
But "there is no reason not to think" that the rest of us would also share any beneficial associations between fitness and longevity, said Per Ladenvall, a researcher at the Sahlgrenska Academy at the University of Gothenburg, who led the study. Past studies involving women have found such links, he said. 
Perhaps I am preaching to the choir by sharing this information (because you may already be practicing yoga on a regular basis and understand all its many benefits), but for those who are not yet physically active or who have family members or friends who are not active, the takeaway is clear: start being more physically active! The New York Times article concluded by quoting the Dr. Ladenvall saying that even small amounts of physical activity can have a positive effect.
"Encouragingly, if you now are concerned about the state of your particular aerobic capacity, you most likely can increase it just by getting up and moving. "Even small amounts of physical activity," Dr. Ladenvall said, "may have positive effects on fitness."
Subscribe to Yoga for Healthy Aging by Email ° Follow Yoga for Healthy Aging on Facebook ° Join this site with Google Friend Connect