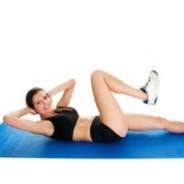 This article will take a look at simple exercises to help reduce belly fat.
If you want to burn belly fat, there is no better way to go about this compared to simple, hard work in the form of good, old-fashioned exercise.There are fortunately numerous different exercises that you can do to burn this fat and get yourself down again to size. This article will take a look at simple exercises to help reduce belly fat. After starting these exercises you need to start to notice results within a few weeks.
Since there is also a proven connection between the accumulation of belly fat and also the morbidity involved with cardiovascular disease, you should really do everything in your power to burn off your central obesity before it might be too much of an irreversible problem. Here are some exercises targeted to burn off your belly fat.
Double Crunches
Most of us know crunches are right option to loose belly fat.Lie on your back with ankles crossed and hands at your ears. Bend your knees 90 degrees almost touching ground floor.Crunch up by raising your knees to your chest and chest to knees 10-15 times(2-4 sets).
Abdominal Crunches
It may seem that abdominal crunches are very difficult and uncomfortable. However, when done right this is one of the most effective exercises that can be used to banish that unsightly belly fat. Crunches are a good exercise to do because they concentrate on the fat around your waist.
Reverse crunches
Lie flat on the floor with your hands by your side palms facing the floor. Lift your legs bent at knees and keep them suspended in the air at 90 degrees. Lift your hips so as to create your legs close to your chest. You have to lift your hips applying pressure to your abdomen. Loosen your legs and bring it to your chest.
Vertical leg crunch
Lie flat on the ground with your legs extended upwards and one knee crossed within the other. Now that you have positioned your body perfectly, perform the same as you would have done the crunches. Do 12-16 crunches, as much as 3 sets.
Bicycle exercises
Lie on your back and legs towards floor.Extend right leg upwards by bending your knee and left leg for the ground.Do this alternatively,by doing this you feel padding a bicycle.Repeat (2-4) sets with full effort.(Within this try to move your shoulder in other direction as shown in picture for any better result).
Cardio Exercises
Before you can firm up your stomach you will need to burn the fat. Jogging, swimming, walking or other cardio exercises are extremely helpful in achieving this goal. While these exercises aren't specifically targeting belly fat they're very easy to do and will burn fat in your whole body.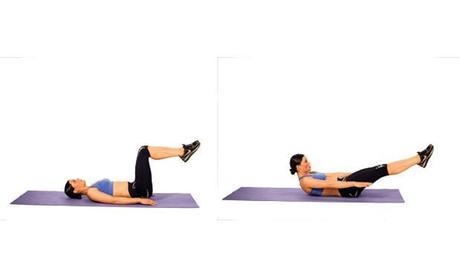 Simple Exercises to Reduce Belly Fat Fast
Captains chair
Take a seat on a chair with straight spine. Keep both hands beside you with your palms through the side of your hips facing downwards.  Now as you exhale bring both your legs near to your chest. Hold for 5 seconds, don't bend forward and arch your back. Reduce your leg and repeat again.
Side plank
Lie down on the ground sideways and raise the body by supporting your left elbow and left leg.Your hip shouldn't touch on the ground. Stay for 30-45 seconds.Once you practiced extend time for you to 1 or 2 minutes.Repeat the same other side too.