by Ram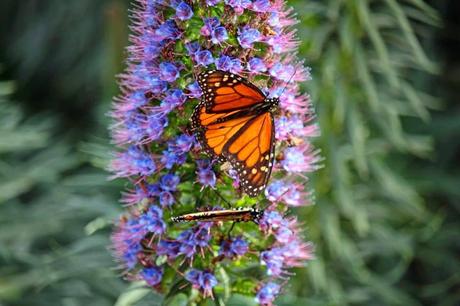 Monarchs Feeding by Melina Meza
Both Nina and Baxter emphasized the need to have a short session of yoga as a quick practice especially during long travel or while taking a break from work (see Mini Office Yoga Practice).  And I recently wrote a piece about the ill effects of prolonged sitting, and suggested taking short breaks and bringing in office yoga or supplementary yoga (see Yoga, Your Compantion Through the Day). All these articles advocated incorporating at least 10-15 minutes of yoga that could not only add new life to the dull and routine tasks of everyday life but also keep us fit physically and emotionally.
One may question the benefits, if any, from a short session of yoga. Not surprisingly, according to a recent study by researchers at the University of Illinois, a single 20-minute session of yoga awakens and sharpens the mind significantly, comparable to walking or jogging. The study involved 30 participants who were either given a 20-minute yoga class or asked to carry out a moderate aerobic exercise regimen for the same period of time. In addition to standing, sitting and reclined yoga poses, the session also included a short meditation practice where participants were encouraged to focus on their breath. In the comparison group, participants worked out an aerobic exercise session, which was also shown to provide a cognitive boost of its own.
When participants were tested for cognitive performance, the authors found some significant difference between the two groups.  Those who'd been practicing yoga and meditation performed significantly better in the assessment tests. Following the yoga practice, the participants were not only able to focus better, they were also processing new information quickly and accurately, and were able to recall the new information more effectively than after performing an aerobic exercise. While there are several scientific studies that indicate that practice of asanas and meditation has beneficial effects on the emotional well-being and general mental acuity, what's remarkable about this specific study is that even a short yoga session of 20 minutes is sufficient to stimulate brain function and improve cognition. Yoga does so through multiple cellular mechanisms, including:
releasing brain chemicals that contribute to a feel-good response and ward off anxiety and mental stress

normalizing blood pressure and stabilizing the heart beats

reducing anxiety and depression
Simple and short though the yoga session may be, the outstanding benefits are surely long lasting. Got office yoga or supplementary yoga?
Subscribe to YOGA FOR HEALTHY AGING by Email