Serious Mass by ON
Here is a personal & unbiased review based on my personal encounter with Serious Mass by ON, I've taken over 40 lbs worth of powdered Serious Mass by ON! So I believe I know what I'm talking about!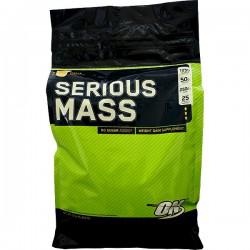 Serious Mass by ON
Taste (8/10): I've only taken the chocolate flavor before, I've heard others say they dislike chocolate flavor a lot but I enjoyed it. I've mixed this with Water & Milk. I would definitly recommend mixing it with WHOLE MILK for increased calories * it tastes better. Its like a really good chocolate milk shake! Overall the taste was pretty good for me with Serious Mass by ON
Effectiveness (10/10): Serious Mass by ON gave good increased calorie intake. Helped me to reach my protein intake each day & gave me creatine, 25 essential vitamins & minerals all in one serving. Hard to beat that! I personally like the high carb count of 250g of carbs. Carbs give you sustained energy so it helps a lot.
Mixability (5/10): The only downside of this product is the mixing. Each scoop is ONE CUP size lol. No joke, your supposed to have two scoops = 1 serving. So trying to mix two cups of powder in a shaker cup just isnt going to happen. I've tried it and its just messy & gets everywhere. Your best bet is to actually mix this product with a blender in milk. Definitly the best way to mix Serious Mass by ON.
Value(8/10): I always feel the price is right, for around 12lbs of powder its about 45$. If your new to this product it will last you a long time because you wont taking 2 scoops right away. You'll most likely start with 1 scoop. Even for me when taking this everyday It lasts me about 30 days long.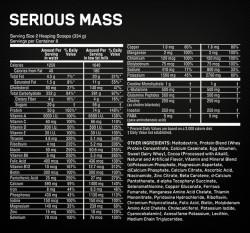 serious mass supplement facts
Overall (9/10): I think a 9 rating is very fair for this product. It provides solid calories, good protein, carbs, vitamins. Pretty much everything you would need inside of a mass gainer shake. It has some issues with mixing but that is to be expected with how many calories your getting. Just use a blender and you'll be fine. Start small on this and see how your body responds but going to two scoops mixed in milk (1500 calories !). Eventually your body will get used to it and crave more calories. At which point you might be able to do that. Serious Mass by ON
I highly recommend Serious Mass by ON to any individual looking to gain weight or put on some muscle mass!
Serious Mass By ON