With a month off the holidays we are back to the Secret Recipe Club, and this month I was paired with Raina of Connor's Cooking. Another Minnesotan and I found Crockpot Chicken Taco Chili and figured it was the perfect football watching dish.
It was the last Packer/Viking game of the season. And it actually meant something. The Vikings needed a win to get into the playoffs and I wanted my Packers to have a better seed in the playoffs.
Before heading to the gym I threw everything in the crockpot. This seriously took about 10 minutes to get all the ingredients together, opened and into the crockpot, a quick turn on to low and I was able to move on with my day.
8 hours later dinner was ready. We poured it into bowls, topped with some cheese, grabbed a few tortilla chips and opened our beers. I was less than happy with the outcome of that game… (but my Packers did win on Saturday and knocked the Vikings out of the playoffs)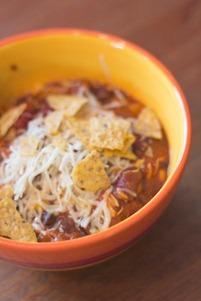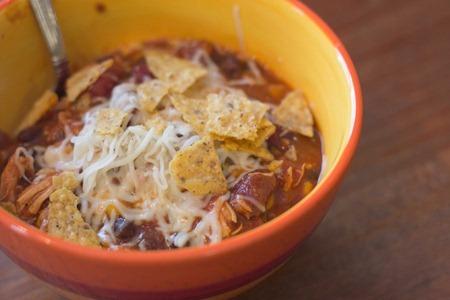 Chicken Taco Chilli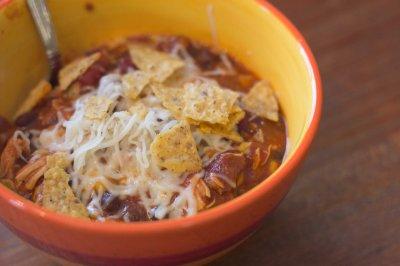 Prep Time: 10 Minutes
Cook Time: 6-10 Hours
Keywords: slow-cooker soup/stew
6039194
Ingredients (Serves 4)
1 can black beans, drained and rinsed
1 can kidney beans, drained and rinsed
1 can corn
1 (20-24 ounce) jar tomato sauce (find something with a hint of spice)
1 (28 ounces) diced tomatoes
1 packet taco seasoning
1 tbsp chili powder
1 tbsp red pepper flakes
3 boneless chicken breasts
Toppings:
Shredded Cheddar
Sour Cream/Greek Yogurt
Tortilla Chips
Hot Sauce
Jalapenos
Instructions
Combine all ingredients in crockpot and cook on high for 6 hours or low for 10 hours.
Shred chicken and stir.
Pour the chili into bowls and add toppings of your choice.
Powered by
Recipage

document.write(");