These seared scallops and crispy potatoes with spicy marinara have it all, from perfect texture combos to phenomenal flavor, all while being gluten and dairy free!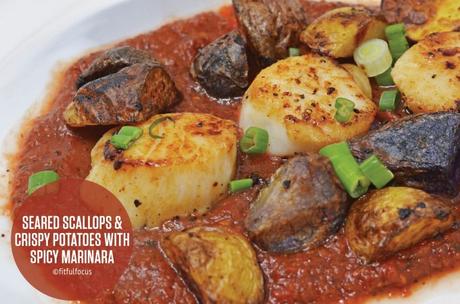 This post is sponsored by Muir Glen.
Scallops. For one reason or another, the thought of cooking these little mollusks has intimidated me for years. I don't really know why. Perhaps it's because my dad has a shellfish allergy, so I didn't grow up around them. Perhaps it's because fish in general tends to be delicate. I really don't have a good reason for why I've avoided them, but that all changed a few weeks ago.
Will came home one day and proclaimed he wanted to try making seared scallops. You know I'm not one to turn down a challenge in the kitchen, so, after 31 years, I put intimidation aside and decided to give scallops a shot.
Will went to Whole Foods to pick out our victims scallops, and we got to experimenting. Yes, I said we. Will took on the role of sous-chef on our scallop adventure. We decided to make them with our sous vide machine and finish them off with a pan sear.
Our first attempt was a great success! However, the scallops were missing two things: a complimentary texture to their buttery softness and the perfect sauce.
After a bit of brainstorming the idea for these Seared Scallops and Crispy Potatoes with Spicy Marinara were born.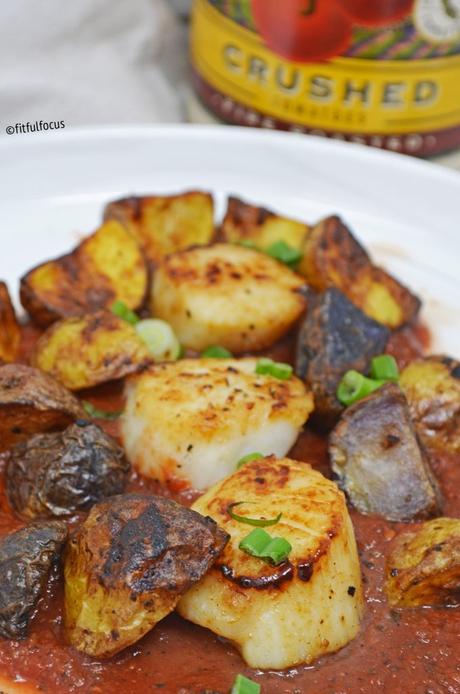 I knew I wanted to make the marinara from scratch, so I turned to my favorite tomato brand: Muir Glen.
Speak to me about these Muir Glen Tomatoes
Muir Glen tomatoes are always certified organic because the brand believes organic farming benefits consumers, farmers and the environment. Their farmers in the Sacramento Valley of California work with bees to maintain a healthy ecosystem and produce the best tomatoes possible. They've even created plant pollinator habitats on their farms to keep the bees happy and healthy for years to come. They're buzzworthy tomatoes if I ever saw them (badumchhhh).
I also love that Muir Glen is focused on zero waste. Any tomato that isn't good enough for their cans goes to compost, not the garbage. You go (Muir) Glen Coco!
I'm in. Where can I buy them?
What better place to get organic foods than Whole Foods? Right now, you can get 10 Muir Glen products for $10 at your local Whole Foods. What can you do with 10 cans of Muir Glen tomatoes? Well, you can make this recipe 10 times. You can also use them to make a variety of soups, stews, sauces, salsas... the possibilities are endless!
Cool, now tell me more about these Seared Scallops and Crispy Potatoes with Spicy Marinara
Let's start with the scallops. They're honestly so simple to make, I feel silly ever being intimidated by them.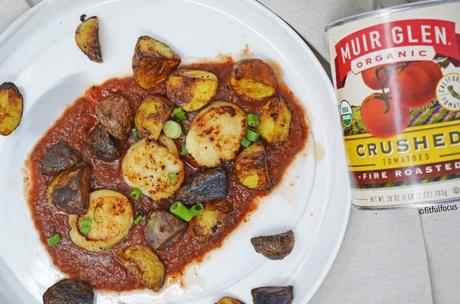 Making the Seared Scallops
First things first, set your sous vide to 123°F, and rinse those babies to get off any residual grit from their old shells. Pat them dry, season them with a little salt, and place them in a sealable bag with 1 tbsp of dairy-free margarine. Seal the bag, sucking out as much air as possible. When your sous vide is ready, place the bag in the water and cook for 30 minutes.
After 30 minutes, remove the scallops and pat them dry again (this is key to achieving a good sear). Season them with salt and pepper. Heat 2 tbsp of margarine in a skillet over medium heat. Allow the margarine to heat up until it starts to bubble a bit. Place the scallops in the pan and cook 30-40 seconds a side. Badabing. Badaboom. You've got yourself some seared scallops!
Don't have a sous vide? No problem! Simply cook each scallop for 30-40 minutes per side. It's much faster, but the sous vide all but guarantees a perfect cook.
Making the Crispy Potatoes
Now for those crispy potatoes. I use an air fryer but if that isn't in your kitchen arsenal, you can make these in your oven.
Place the potatoes in a large bowl. Add the olive oil, garlic, salt and pepper and toss to coat. Dump them in your air fryer and cook at 400°F for 8 minutes. Toss them and cook for another 8-10 minutes.
If you're making them in an oven, place the potatoes on a wire rack vs. directly on a baking sheet. This will help the air circulate and crisp them up ( like these guys). Cook for 30-40 minutes, tossing halfway, until they are golden, crispy and cooked through.
Making the Spicy Marinara
The spicy marinara is where the real flavor magic happens. The hero of this sauce is Muir Glen's Fire Roasted Crushed Tomatoes. Whole tomatoes are harvested at peak flavor, roasted over an open flame that blackens the skin and sears in the unique flavor of fire-roasted goodness. Then they're crushed for easy use. They basically do my job for me.
Here's what you'll need: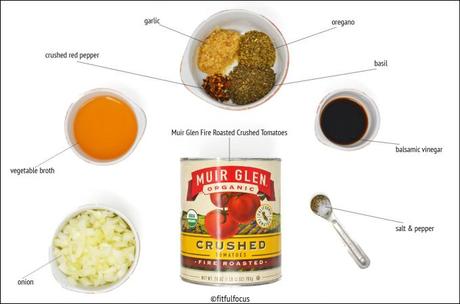 Start by sautéing the onion with the veggie broth. Once the onion softens, add in all the spices. Let sit for a minute, then add a little balsamic vinegar and dump in the Muir Glen Fire Roasted Crushed Tomatoes. I know, your kitchen is already smelling so good you can hardly stand it.
Let that simmer for about 20 minutes. Then hit it with an immersion blender to reach your desired consistency. Alternatively, you can work in batches using a regular blender.
Bring all the magic together by fanning a few spoonfuls of spicy marina across a plate. Top with half the scallops (3-4 depending on the size) and as many crispy potatoes as you can handle.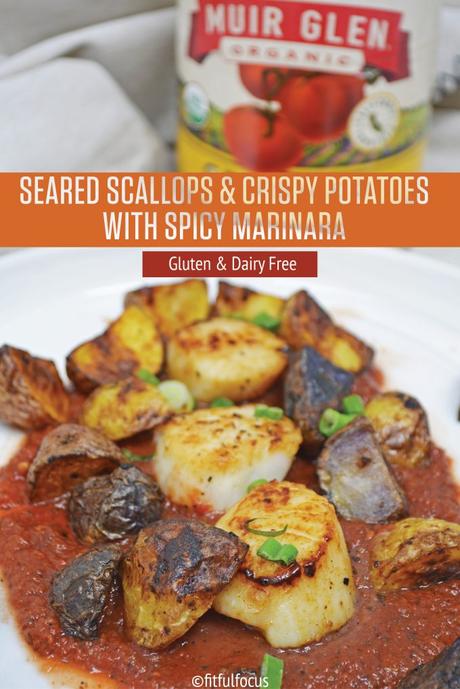 Sprinkle with a few chives or fresh basil if desired and DEVOUR.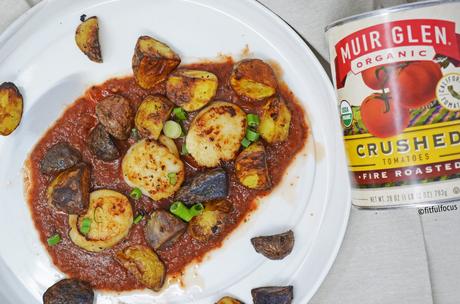 Ingredients
Instructions
Notes
Let's chat:
Are you a fan of Muir Glen products?
Have you ever made seared scallops?