by Baxter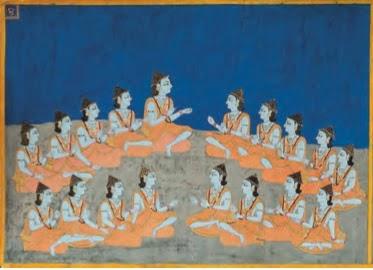 The Transmission of Teachings
I'm penning this blog post from 35,000 feet on my way home to Oakland from an amazing four-day convention in Austin, Texas called the SYTAR Convention. I'm writing it now because I am feeling so full of excitement and information and gratitude for the experience that I didn't want to wait until tomorrow to do this! I didn't want to lose any of the energy I felt from this amazing gathering of yoga teachers from around the world who came together to share the developments in the emerging field of yoga therapy. For those not familiar with this term, it was coined about 25 years ago, when yoga teachers Richard Miller, PhD, and Larry Payne hatched the idea of an organization and journal dedicated to the potential of yoga for both the maintenance of health and the treatment of disease. And slowly over the past 25 years, a community of like-minded yoga teachers, some already working as healing professions and others with the desire to work with those in need, has grown to the point where the International Association of Yoga Therapy, or IAYT, now has over 3000 members, in many countries around the world.
In the yoga tradition, a dedicated community is known as a sanga, and sometimes is also called a kula, per the Sanskrit language of yoga. I wanted to write about this concept as a first installment of things I learned at the conference because it came up on so many levels over the course of the four days in Austin. It began on a personal level in the form of the first person I ran into 10 minutes after my arrival: our own guest writer Shelly Prosko (see Urinary Incontinence and Organ Prolapse and Yoga among others), whom I had never met in person, only via email. What a delight to be welcomed by her amazing smile and kindness! My personal community grew quickly, as I connected with four new colleagues from Omaha and reconnected with old friends I had not seen in some time, like IAYT "Yoga Today" editor Kelly Birch. And at least a dozen people came up to me to thank Nina and me for this blog, which many had been following for years and were finding useful for their teaching and their students—thank you all for this feedback and encouragement! So Yoga for Healthy Aging is now, I feel, a part of the IAYT global community!
I witnessed many smaller communities coming together with common purpose and clarity of purpose: new yoga therapy training programs looking for guidance and support from those that have been at it for a while, yoga therapists specifically interested in bringing more yoga to the armed services, and teachers looking for new ways to work with special populations, such as those with depression or Type 2 Diabetes. If you follow us here at YFHA but are not a yoga teacher, I am hoping this information is helpful in expanding your awareness of what "yoga therapy" is and the kinds of skills these teachers who are learning additional yoga healing techniques beyond their basic yoga teacher training have to offer you.
But perhaps the most powerful use of sanga was illuminated again and again in the research and practical experience that those in the field were reporting on the role of "community" in healing.  Regular support group meetings, weekly and then monthly, are a part of the four pillars of healing of all of the heart studies conducted by Dean Ornish's group over the last 35 years, along with yoga, exercise and diet. It was part of similar studies on prostate and breast cancer. Michael Lerner, the director of Commonweal, which hosts six week-long residential programs each year for those living with cancer, spoke movingly about the role of the group in the transformations that he as witnessed over the past 20 years at their center near Bolinas, in Northern California. Their program includes yoga, massage, healing arts, group work, and healthy food, all in a beautiful setting. He mentioned the long-lasting transformations he sees arise from one week together, and attributed some of that power to the work that take place in the ideal group size they have come to discover: only eight people! He mentioned two kinds of group dynamics that had strong effects: 
Generous listening and compassionate attention without interruption that occurred in group sessions for the deep work

More superficial levels of interaction that occurred in the provided space for conversation 
Another powerful presentation as made by the keynote speaker on the first day of sessions by Lorenzo Cohen, MD, an oncologist from MD Anderson Cancer Center in Houston (whose grandmother just happened to by Vanda Scaravelli!), who presented several studies demonstrating the effects of yoga on cancer outcomes. One clear statement he made regarding the effect of community on cancer outcomes was the social influences on cancer survival: if folks are connected with a social group, they have better survival outcomes. He cited a specific study on ovarian cancer, which showed less norepinephrine, a stress hormone that encourages tumor growth, at cancer sites in those with group support. 
Community, community, community. And even San Francisco yoga therapist Chase Bossart, in his talk on yoga for Type 2 Diabetes, suggested the motivational potential of regular attendance of group classes (sounds like community to me!) in supporting the shift from inactivity to improved physical activity in those with Type 2 Diabetes. It made me reflect on how challenging it was for me in my family practice to find ways to motivate my patients with Type 2 Diabetes to change their habit of inactivity. These days, I know that the sense of community that my students experience in their regular attendance of classes is a powerful motivator, and many positive physical and mental benefits result from that regular practice.
So, I begin my reports from the 2014 SYTAR meeting with this post on the power of sanga with you all, one of my most important communities. I hope to share a few more posts on other exciting aspects on yoga's healing potential that I learned about in Austin soon. In the meantime, get to that community class you enjoy so much or start looking for one that fosters a sense of community, initiate a gathering of friends and family to share and listen to one another's stories, or accept an invitation to a gathering you were wavering on. Experience the power of your kula directly, and regularly—it's good for your health!
Subscribe to YOGA FOR HEALTHY AGING by Email 
° Follow 
Yoga for Healthy Aging
 on Facebook