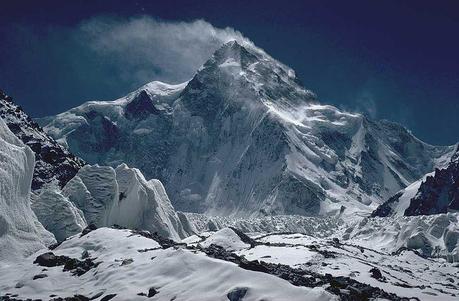 Explorers Web has a story today about a new expedition to the Karakoram this winter that will attempt to climb K2 under the harshest conditions imaginable. The team features an all-star line-up of Russian climbers who are accustomed to formidable challenges, but despite their collective experiences in the mountains, this will most certainly be their toughest climb yet.
The 16-man team will consist of Alexey Bolotov, Gennady Kirievskiy, Vladimir Belous, Nikolai Totmianin, Valery Shamalo, Gleb Sokolov, Vitaliy Gorelik, Illias Tukhvatullin, Andrey Mariev, Vadim Popovich, Evgeny Vinogradskiy, Nikolay Cherny, Sergey Bychkovskiy, Igor Boriseko and Vladimir Kuptsov. Himalayan vet Viktor Kozlov, whom ExWeb describes as having spent years planning this attempt, will lead the expedition.
Standing 8611 meters (28,251 ft) in height, K2 is the second highest peak in the world, and one of the toughest climbs under the best of conditions. During the winter, high winds, cold temperatures, and precarious snow conditions will only serve to elevate the challenges that are normally associated with the "Savage Mountain." K2 also happens to be one of the deadliest mountains to climb, with about a 25% fatality rate amongst summiteers.
Just how challenging is this mountain? This past summer, a team of four climbers reached the summit after weeks of working the route, waiting out the weather, and acclimatizing. They were the first team to top out on the mountain in over three years. In contrast, hundreds of climbers summit Everest every year. To say K2 is tough is an understatement, and that doesn't even begin to factor in the difficulties that winter will present.
Now that said, I'd like nothing more than to see it actually climbed in the winter. This is going to be one epic adventure and the men who will be undertaking this expedition know going in that they are going to suffer. The plan is for the large team to be spit into groups of two men each. They'll all take shifts working at fixing lines, building high camps, and supporting one another for summit bids. It'll take a truly team effort to reach the top, and we get to follow along as they do.
Watch for more updates on this expedition in the weeks ahead.