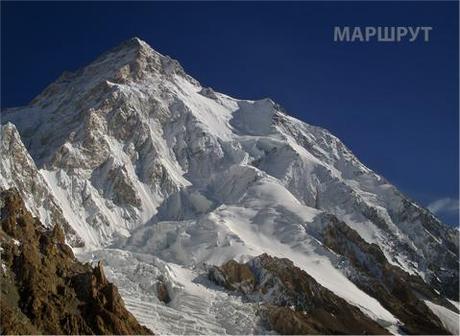 Last week I posted a story about an all-star team of Russian climbers who will take on the Mountain of Mountains this winter when they attempt to climb K2. Now, as the 16-man team prepares to depart for Pakistan, we get a few more details on the climb courtesy of ExWeb.
In my original post, I wrote that the Russians were about to attempt the impossible, and while that is a bit of hyperbole, I do believe that a K2 winter ascent is perhaps the most challenging climb in mountaineering. It is a significant undertaking in during the summer, and winter will present a whole host of additional challenges. But, making the first ascent of the second tallest mountain in the world isn't challenging enough for this veteran crew. They're going to attempt to do it without the use of supplemental oxygen as well. ExWeb reports that the team will stash an oxygen bottle in each of their camps for a emergency purposes, but aside from that, they'll go sans O's.
The team is also still working out the details of exactly which route they'll be taking as well, although the plan now is to go up a variant of the well known  Cesen Route. At some point they'll traverse the treacherous face of the mountain and switch over the Polish Route, which they'll take to the summit. That is, if everything goes according to plan.
The expedition also has an official website, all in Russian of course, which can be found here. Google Translate can help fill in some of the details however, and doing so reveals that the team will hold a press conference on December 5th, prior to their departure to the Karakoram on December 9th. That means they'll arrive in Pakistan less than two weeks before the start of winter, and by the time they organize their gear and travel to Base Camp, the new season should have officially begun. They'll then have until March 20th to complete a true winter climb, although I'm sure none of them are interested in spending three months in that remote location during the winter.
The hope is that they'll pull off this incredible feat and fly the colors of Mother Russia at the summit along side the official flag of the 2014 Winter Olympic Games, which will take place in Sochi, Russia.
Make no mistake, this will be one of the most ambitious and difficult mountaineering expeditions in recent history. The 16 men on this team are about to be pushed to the very limits and they are going to need a lot of things to go their way before they will successfully step onto the summit. If they are successful, this talented team will have pulled off one of the toughest climbs imaginable on this planet.