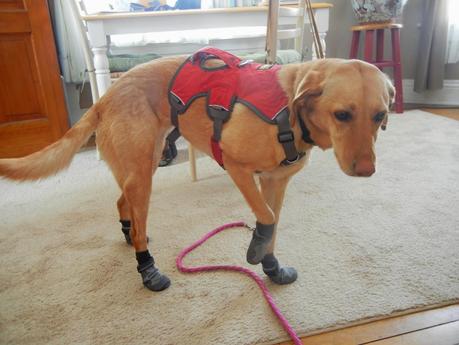 I never thought in a million years that I'd put boots on my dog.
Like Real.Boots.
But with the unrelenting cold temperatures we've had this winter, I finally gave in and ordered Charlie a pair of Ruffwear Summit Trex boots. My hope is that these boots will allow me to give Charlie her much-needed outside time even when the temperatures are dangerously cold.
I had read all the reviews on Ruffwear's website and was convinced that the reason most people have difficulty keeping the boots on their dogs' feet was due to not fitting them properly. I was sure that I wouldn't have the same problem since I have experience using Ruffwear's gear.
First, the positive points:
1.  These boots are very well-made and sturdy. There is no concern that they will wear out.
2.  The boots are super cute and tough at the same time. I am not embarrassed by the look of them on Charlie's paws.
3.  They do a great job protecting her paws from the elements, which was the intended purpose.
Now, my concerns:
1.  I'm constantly paranoid that they will fall off. And admittedly, if you're not diligent about putting them on
tightly
, they WILL fall off. I experienced that during my first outing with Charlie in an empty field where I could observe how well they worked. During that initial trial, she lost three different boots at three separate times.  Even though she
was
racing around at full speed and plowing through deep snow, the pictures on Ruffwear's website depict the same exact thing, so I'm pretty sure they are supposed to stand up to that kind of use. Even with my diligence and experience, I have a feeling that the lost boots had something to do with me putting them on in the backseat of the car and not getting them on tightly enough.

2. The whole time we were walking, I was watching for signs that they were on maybe
too tightly.
Again, I obsessively watched her feet during the entire walk. Halfway through our walk I ended up removing one of the boots because she appeared to be limping on that foot. I was afraid if I loosened the velcro strap too much, the boot would fall off, but I also couldn't be certain that she was
actually
limping or if she was just walking funny while getting used to wearing them for a prolonged period of time (30 minutes).
3. They are a big investment (starting around $55). For some people this will seem like a small price to pay for the comfort of their dog, for others (like me) it's a big investment. While these boots will surely last a long time and be worth the investment, the fear of losing a boot is always on my mind, which kind of detracts from the joy of walking with my dog; instead of enjoying the scenery, I'm too focused on her paws.
VIDEO:
Overall, I think the boots are great and hopefully with a little time to get them "broken in" and figuring out how tight is tight enough when putting them on, they'll be a great addition to Charlie's walking/hiking gear.
However, I think you really have to consider how much effort and time you're willing to put in to the learning and adjustment period before making the investment. I have a feeling most people are looking for a "quick fix" and these definitely are not that. In my experience, it will take time and patience to make them work for you and your dog, especially since it is not natural for dogs to wear boots.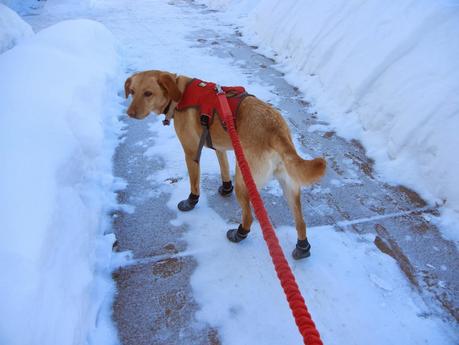 On our second trial, a neighborhood walk on flat sidewalks while leashed and with the boots fitted in the living room where I had ample space to see what I was doing, they stayed on perfectly and didn't seem to bother Charlie as much. She still stands like a statue once they are on, with one paw up in the air for dramatic effect, but once we get outside and start walking, she hardly notices them.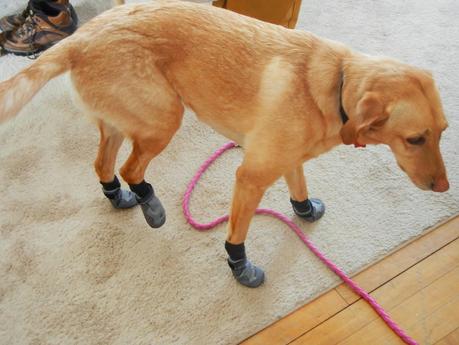 Drama Queen.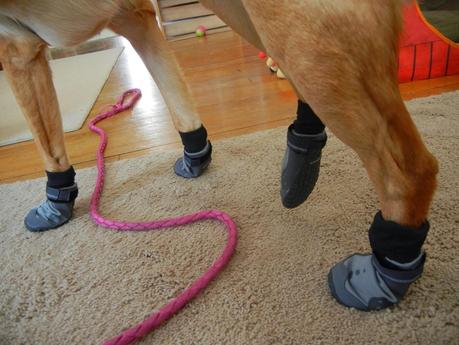 Foot raised for dramatic effect!
Bottom line: I'd recommend these boots to people who have a very active dog willing to put the time in to figure out how to use them properly and diligent enough to continue doing so. Otherwise, you might be better off with the previously reviewed
Pawz Boots
, which are great for leisurely, short-term use.