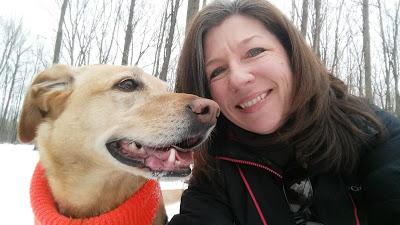 The long drive leading into our favorite county park was almost impassable with deep slush and icy ruts that threatened to pull me off the road. Since we were already here, though, I made it in as far as the first parking area and compromised by hiking a different trail.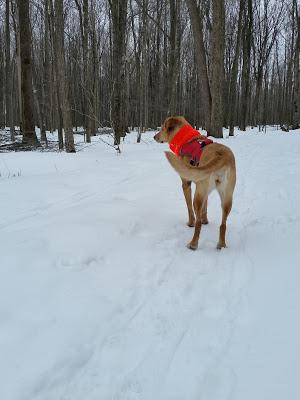 Sometimes it's nice to have new experiences rather than hiking the same trail all the time. But on today's hike, the different terrain just proved that I really love our "regular" trail. The new landscape was peaceful and quiet, but not quite as interesting or appealing to the eye as our other trails.
In any case, it was a beautifully mild day and we enjoyed the exercise. It's interesting how mid-30 degree temps in March can feel so much warmer than the same temp in January.
The air was more humid from the snowmelt, which somehow makes it feel warmer than the dry cold air of deep winter. I unzipped my coat during parts of the hike and even enjoyed the sensation of the occasional breeze flowing up my shirttails and onto my back. It was refreshing, not bone-chilling.
But the melting snow is unearthing treasures that have been locked in the layers of snow and ice... poop.
Charlie loves these treasures and apparently endeavors to *wear* these smells. I caught her rolling in four different piles of poop during our hike and she was so far off in the woods that by the time I caught up to her (yelling the whole time to "STOP!"), it was too late.
Ahh... the smell of spring.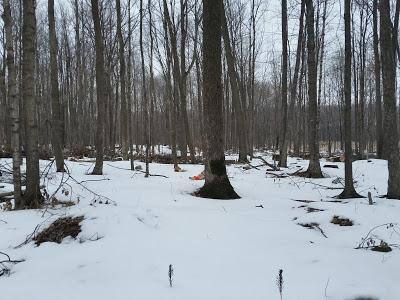 Charlie in center behind tree... rolling in poop.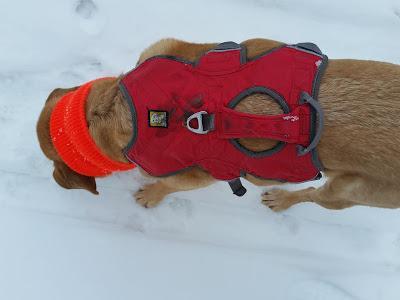 Poopy harness.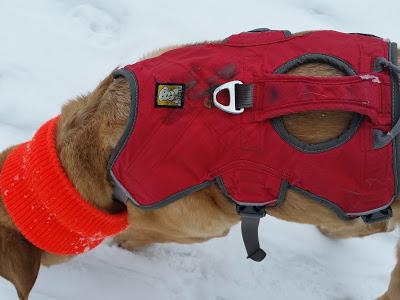 Luckily, the Ruffwear Webmaster Harness is machine washable and has held up great over the many years of use (and washings).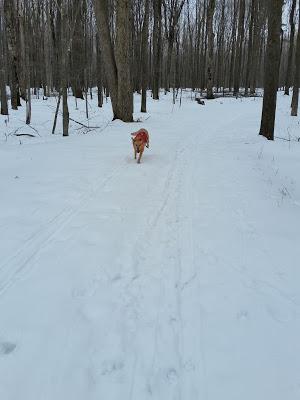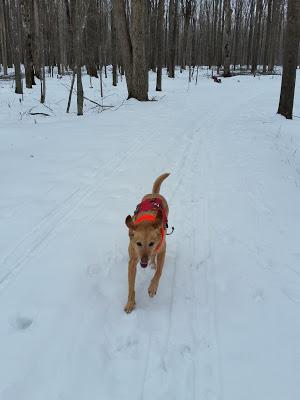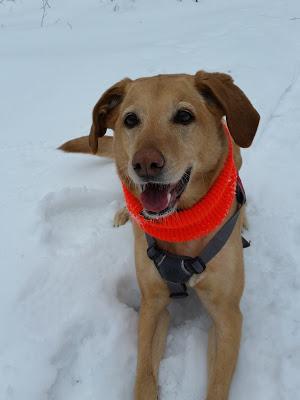 We often take breaks to play fetch on our hikes since it's Charlie's favorite! She's always carrying a stick around with her and trying to place it in front of me so I'll throw it. Sometimes I challenge her a bit by *pretending* to throw it one way but really throwing it somewhere else, and then we play "go find it." She LOVES doing nose-work and the challenge of finding something.
VIDEO:
VIDEO: