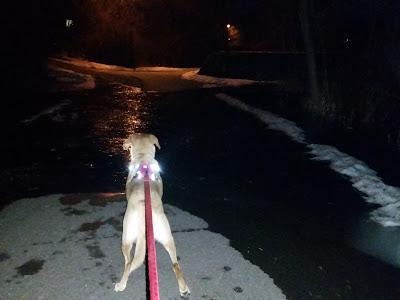 I was surprised to see Flood Warnings on the news today but this early spring thaw has definitely caused some flooding issues in our area of the state.
Charlie and I have been frequenting the pathway along the River Edge Parkway in recent weeks, but tonight our path was blocked by overflowing water too deep to walk through.
No problem though. We just turned back and continued our long walk in another direction... away from the river!
We'll be enjoying the warm temps for another few days until this weekend when we're forecast to get a fresh new blanket of snow with colder temps. Only in Wisconsin can you go from shorts & t-shirts one day to winter coats the next... in February. Gotta love it.