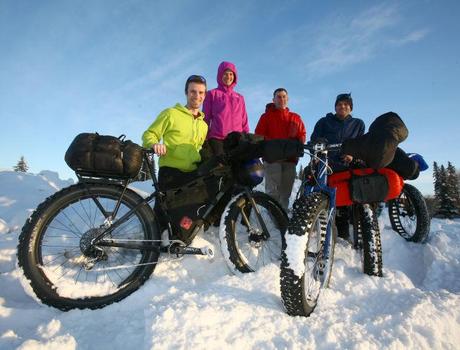 While much of the attention on the Iditarod Trail has been focused on that rather popular dog sled race, another event has been running parallel to it along the same route. That is the annual Iditarod Trail Invitational, which pits mountain bikers and trail runners against each other on the 1000-mile long course from Anchorage to Nome. The race is known for being a grueling suffer-fest, that is incredibly demanding on the riders, who often take up to a month to complete the route. That certainly wasn't the case this year however, when a new speed record was set.
Mountain biker Jeff Oatley had planned on taking three weeks off from work to ride in the Invitational. He was even prepared to ask for additional time off if he needed it, just so he could complete the entire course. Instead, he managed to ride the entire trail in just 10 days, 2 hours, and 53 minutes, besting the old record by nearly 5 days.
If you followed the Iditarod Trail Sled Dog race, you probably know that the mushers were lamenting the conditions out on the route. There hasn't been much snow in Alaska this year, and it has been warmer than normal there this winter, which did not make for good conditions for pulling a sled. But those same factors sure made for great mountain biking, as they presented Oatley with the best conditions that the race has seen in its 14-year history. It also cleared the way for the new record, although shattering it by that much time is still a shock.
No matter how you slice it, covering nearly 1000 miles in 10 days on a mountain bike in the winter, is impressive stuff. Congratulations to Jeff for winning the event and setting the new record. It is going to be tough to beat that one.