by Nina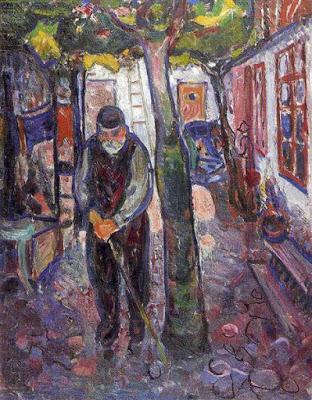 Old Man in Warnemunde  by Edvard Munch
— "no matter how old or out of shape you are, you can restore much of the strength you already lost"—Jane Brody, New York Times
I recently read a New York Times article Preventing Muscle Loss Among the Elderly thinking that I might learn something new about age-related muscle loss, a topic we have addressed frequently in the past. It turns out I was a bit disappointed. It even looks like I could teach Jane Brody a thing or two, as she conflated age-related skeletal muscle atrophy with sarcopenia. Sarcopenia is the stage that some people reach as they are aging when they have an amount of skeletal muscle mass that is significantly lower than the average muscle mass of the general population. Just because Brody has less strength than she used to doesn't mean she has sarcopenia (and since she exercises very regularly, I'd be surprised if she did). For information on the difference between age-related skeletal muscle atrophy and sarcopenia, see Age-Related Muscle Loss and Sarcopenia, in which I interviewed Dr. Chris Adans, an expert on sarcopenia about both muscle and bone strength.
However, I did notice that Brody provided a link to an older study about restoring strength in very elderly that you might want to know about. In this study, High-Intensity Strength Training in Nonagenarians Effects on Skeletal Muscle, researchers worked with ten volunteers who aged 90 and over and who were frail and living in institutions. They started by measuring leg strength and walking time and found that "quadriceps strength was correlated negatively with walking time." So, the less quadriceps strength the volunteers had, the slower they walked when they were given a tandem gait test, which is toe-to-heel walking, as in walking the line. They then had the volunteers undergo eight weeks of high-intensity resistance training. For the nine who made it through the eight-week program, strength gains on average more than doubled. And the mean walking speed, tested again through tandem gait, improved 48 percent.
Isn't that inspiring? Clearly it is never too late to work on strength building. And becoming weak with old age is not a given as if you work on strength building now. Even though the study I discussed here used high-intensity strength training to help the test subjects restore their strength, the sarcopenia expert I myself interviewed did include yoga as a type of resistance exercise that would help prevent skeletal muscle atrophy. Here's Dr. Chris Adams advice:
"At this point, the recommendations are pretty general and would consist of: 1) maintaining a healthy diet, 2) resistance exercise, such as yoga or weight lifting, assuming there is no medical contraindication to exercise, and 3) avoiding preventable or treatable risk factors for other conditions that cause skeletal muscle atrophy, such as smoking, alcoholism, hypertension, obesity, high LDL cholesterol, etc."
For more on practicing yoga for strength, see Yoga Asanas: Endurance Training or Resistance Training? and Techniques for Strength Building.
Subscribe to Yoga for Healthy Aging by Email ° Follow Yoga for Healthy Aging on Facebook and Twitter ° To order Yoga for Healthy Aging: A Guide to Lifelong Well-Being, go to Amazon, Shambhala, Indie Bound
or your local bookstore.
For information about Nina's upcoming book signings and other activities, see Nina's Workshops, Book Signings, and Books.