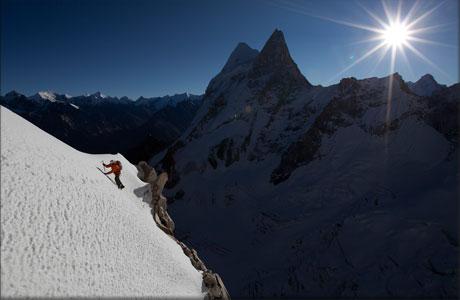 The
Reel Rock Tour 7
kicked off yesterday with the first showings of some great new climbing films. The Tour officially got underway in Boulder, Colorado (Where else?) But last night shows also took place in Orem, Utah; Minneapolis, Minnesota and Banner Elk, North Carolina. In the weeks ahead, the Reel Rock express will hit other parts of the U.S. as well. To find a location that will be showing the videos check out the Tour calendar here.
Some of the films that will be screened this year include
The Shark Fin
, which is about Conrad Anker's obsession with climbing an unclimbed route on Mt. Meru in India with Jimmy Chin and Renan Ozturk. Also,
Honnold 3.0
takes a look at everyone's favorite free climber, Alex Honnold, while
Wildeboys
goes into the counter culture world of offwidth climbing.
The Dura Dura,
which documents Chris Sharma and Adam Ondra working a 5.15c route, completes the line-up. For more on the films click here and check out the trailer below.