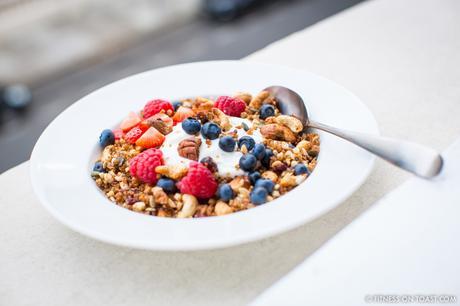 Like most people, I'm constantly trying to master my sweet tooth; in tireless pursuit of healthy-yet-tasty dishes, here's a fabulous breakfast offering, loaded with nourishing nutritional value and exquisite taste to satisfy the sugar craving! Granola from supermarket shelf tends to be full of simple sugars and transfats, but my home-made version is altogether more friendly! Quinoa, about which I've written previously, replaces oats in this batch, and a host of cinnamon-covered nuts-&-seeds make an appearance too, garnished with delicious berries! My personal view is that there's no substitute for actual, genuine sugars, so I've lightly glazed the granola with Raw Manuka Honey (courtesy of Steens, with whom I've collaborated to whip up a number of delicious, healthy recipes). I've long believed Manuka to be a fabulous natural alternative to refined sugar, and has that beautifully rich floral aroma. The whole recipe is super easy to make, and is great for kids and adults alike! Click MORE to get the 'why' and 'how to', along with the health benefits of Manuka!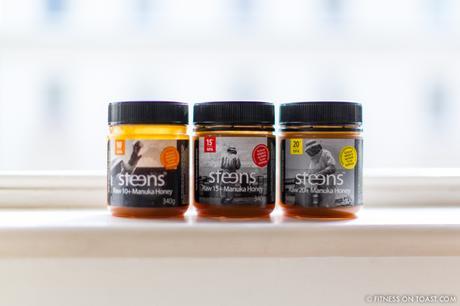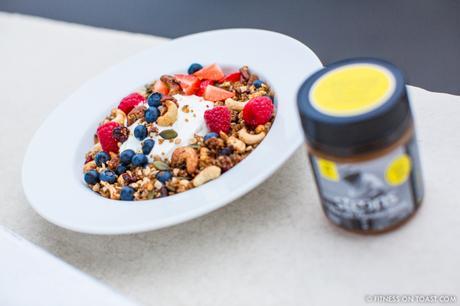 WHY GO MANUKA?
Manuka Honey, much like its regular-honey cousin, is made by bees – they just happen to thrive amidst the New Zealand 'Manuka Bush'. The bush contains naturally occurring antibacterial properties, which is the reason for the internationally researched benefits of this type of honey. It's earned a reputation as a fabulous natural alternative to help maintain good health & wellbeing. I personally value it for that richness of scent, unrivalled thickness of texture and crucially, the impossible depth of flavor – there's nothing quite like it in a cup of tea, or in a dessert alike :) For this recipe, I've partnered with Steens, the world's largest producer of high-NPA Manuka honey (which differentiates it from other honeys as this Non-Peroxide Activity is the functional component). Apart from the delicious product which is raw and cold-processed (destroying less of the nutritional value in the process), I particularly love that I can track each batch right back to the hive in New Zealand!

i) Rich nutritional value
– Regular honey, when exposed to light or heat can lose some of it's nutritional value. Manuka however can retain its nutritional value infinitely better depending on the level of UMF (Unique Manuka Factor) even when exposed to light and heat. It contains a bioavailable superfood, aka bee bread which is pollen that's undergone a fermentation process; this yields a host of probiotics and amino acids.
ii) Healing
– Many beauty products boast one of their ingredients to be Manuka honey, again due to the non-peroxide antibacterial properties. It's been used as a dressing for wounds, professing supposed healing powers, and providing a waterproof membrane at the very least!
iii) Skin
– a high UMF-rating of Manuka honey is said to help improve skin conditions such as scarring, burns, eczema and insect bites, via direct topical application; perhaps include it in your next homemade face mask!
iv) Energy
– If you need a quick fix for a little 
natural
 sugar before a workout (which I personally believe to be essential for any serious fitness regime), Manuka is a great solution; a teaspoon's-worth should be enough to power you up! It can replenish the body's exhausted glycogen supplies post-workout too, which will help with the transport / absorption of protein thereafter.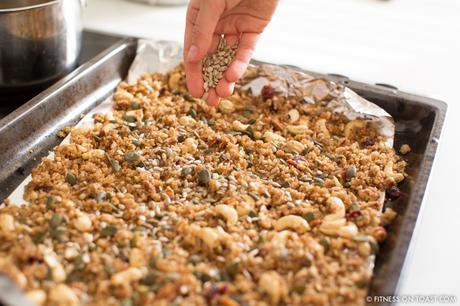 INGREDIENTS:
200g quinoa uncooked
1/2 cup chopped almonds
1/2 cup chopped hazelnuts
1/2 cup chopped pecans
1/2 cup of whole cashews
1/2 cup of sunflower seeds
1/2 cup of pumpkin seeds
1/2 cup of dried cranberries
1 tablespoon of coconut oil
1 tablespoon of Steens 15+ Manuka honey
1 tablespoon of cinnamon
HOW TO:
1) Boil the quinoa, drain it, and let it dry on kitchen towel.
2) Preheat oven to 350 degrees. Lightly coat the baking tray with coconut oil.
3) Mix all ingredients together. I used my Vitamix for 15 seconds on the lowest intensity.
4) Spread the mixture on a baking tray and toast for c. 5 minutes.
5) Allow to cool almost completely before manipulating, then popping it into your muesli container!
6) Dollop out some yoghurt into a bowl, and sprinkle granola over and around it, garnishing with berries. (I've also displayed the almond-milk version in a picture below, which works perfectly too!)
7) Consume! Faya :) x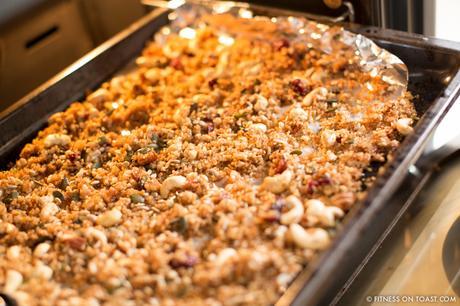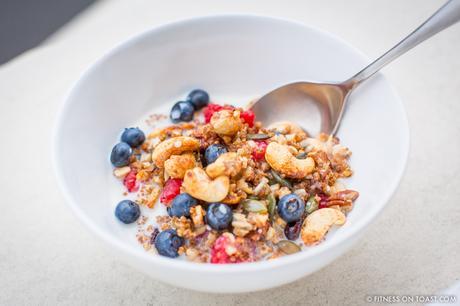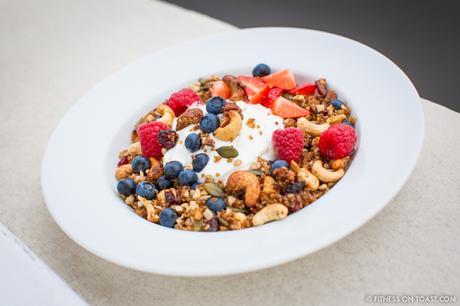 _________________________
This is a sponsored piece of content in collaboration with Steens.
_________________________
YOU MIGHT ALSO LIKE: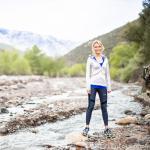 WHY TO HIKE ?!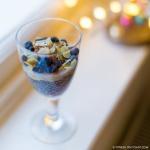 BREAKFAST SUNDAE!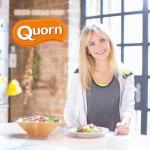 QUORN SALAD !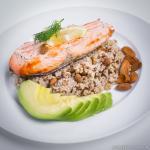 SALMON & QUINOA