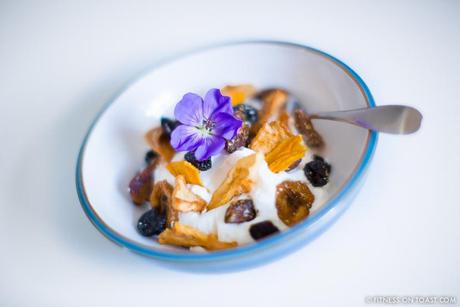 Just a quick little post to share a recent dessert epiphany. Like most people, I always seem to be time-poor in the evenings, and whilst I'll invest some of that precious time into cooking a nutritious main course, I'm often after a quick-and-healthy dessert option that doesn't keep me from my sleep! I stumbled across Urban Fruit on an amble through Waitrose looking for inspiration, and their packaging piqued my interest: 'Just fruit, gently baked' they claim. No preservatives, gluten free, with no added sugar… they just bake it to make it 'easier to munch on the go'. Interesting…
I spontaneously decided to give it a try and bought them all. Mango, banana, pineapple, blueberries, strawberries (personal favourite) and apple. A restrained sprinkling of each, on top of 3 generous tablespoons of Total 0% Greek Yoghurt , with a tactically-placed purple flower, and then a dusting of cinnamon for some extra flavour… voila! If it takes you more than 1 minute to compile this, something's wrong!
This particular yoghurt brand is deliciously rich-tasting without the guilt-inducing fat, and is a good source of protein to fuel muscle repair, potassium to condition the heart / brain / kidney, zinc to regulate testosterone, and vitamin B12 to encourage haemoglobin production.
I'd caution against eating too much of the baked fruit at any one time, as the sugar content, whilst natural, is still high (it is ripe fruit after all), and I think the baking process will slightly simplify the sugars given the use of heat. I would still stress that it's a natural and convenient way to give your body nutrients, and makes for an easy, tasty quick dessert! Just a thought:) Faya x
_________________________________
YOU MIGHT ALSO LIKE: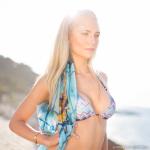 LONGCHAMP ON TOAST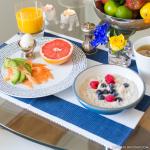 HOTEL BREKKY @ HOME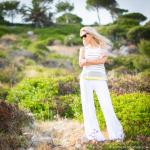 YOGA WITH CHARLI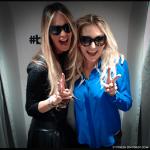 ELLE MACPH-INTERVIEW!