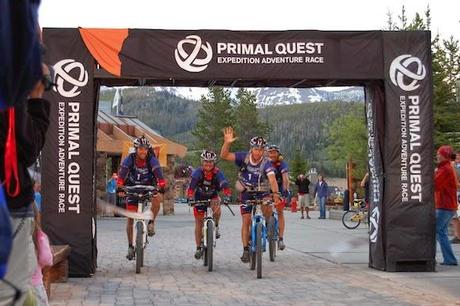 It appears that adventure racers may have another big race to look forward to in 2015, as the return of Primal Quest has been announced, with the race set to take place in the Lake Tahoe area. The official name of the race, according to a newly launched website, is Primal Quest Expedition Lake Tahoe, and while no specific dates have been mentioned yet, it looks like it will be taking place in August of next year.
Registration for this new PQ race is set to open in August of this year, with the field limited to just 20 teams. As per usual, teams will be coed, and consist of four members. No details on the course are provided just yet, but it is expected to be a 7-day event that covers 400+ miles (643 km) through the Sierra Nevada mountains. Disciplines mentioned on the website include trekking, mountain biking, stand up paddle boarding, flat water paddling, down river paddling, ascending and rappelling, and caving.
For those that don't know, at one time, Primal Quest was the biggest name in the sport of adventure racing, and the race's legacy is right up there with the likes of the Eco-Challenge and the Raid Gauloises. But there hasn't been a race with the Primal Quest name on it since 2009, when it was held in the Badlands of South Dakota. I'm sure that many fans of adventure racing, not to mention racers themselves, are trying to not get their hopes up too high about the return of PQ, after all, this isn't the first time we've heard that the race was coming back. In fact, it has been teased twice since the last race, with both opportunities falling through. As someone who worked on the last two PQ events – Montana and Badlands – I can tell you that great efforts were made to attempt to revive the brand at the time those announcements were made. There were other issues that arose behind the scenes that ended up killing off those efforts.
I don't know too much more about who is bring Primal Quest back at this point, but I can tell you that it is not Don Mann, the race director for PQ Montana and Badlands. Don is busy creating a great new obstacle course race series called BattleFrog, and when I shared the return of Primal Quest with him, he was happy to see that it was returning, but didn't know much beyond that either.
Regardless of who is behind the return of the race, it'll be good to see Primal Quest back in some form.