by Ram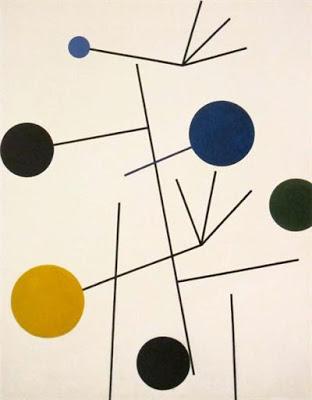 Rising, Falling, Flying by Sophie Taeuber-Arp
Postural balance is the ability to keep your body stable and to regain balance whenever there is a shift in your posture. This ability diminishes as we age, which can result in an inability to maintain proper posture, balance, or stability during standing or walking. Aging is also associated with decreased balance responses from the vestibular, visual, and proprioceptive systems that results in increased levels of instability and unsteadiness. With decreased ability to maintain balance together with increase in postural sway and weak gait, aging/older adults are more susceptible to losing balance and falling. In addition to weakness-associated balance impairments, prior falls, loss of strength, gait, and certain medications are also risk factors for poor balance and falls. 
Falling is a leading cause of injury-related death for those over the age of 65 in the United States. According to the World health Organization, fall-related death rates are highest world-wide among adults over the age of 60 years. Falls are the second leading cause of accident-associated deaths globally and 80% of these individuals come from low and middle-income countries. Falls also cause other health problems, including but not limited to trauma, fractures, broken bones, and head injuries. And the immobility as well as the psychological impact of falling makes the elderly people more susceptible to developing secondary problems, such as infections, or they may be at a risk of repeat falls, subsequent injuries, a reduction in quality of life, and sometimes even death. 
Thus, it is imperative to develop programs for aging adults to not only improve balance and decrease falls but also manage the fear of falling. Of course, yoga, which includes postures (asanas), meditation, and breathing (pranayama) is known to enhance relaxation, flexibility, balance, strength, overall fitness, mental and emotional well-being. And studies suggest that the combination of postures, breathing, and stillness when practiced together improves an individual's physical strength and stability as well as a sense of well-being and enhanced quality of life. With yoga practice, elders experience less drama in the intellect, as the mind is encouraged to focus on the pose and the pose itself improves balance by increasing muscle strength, endurance, flexibility, and heart and lung function. While there are quite a good number of studies focusing on yoga regimens for falls, in most cases the size of the study populations have been quite small. Nevertheless, based on the conclusions of these studies, I feel it is definitely helpful to promote yoga for seniors. 
In one of the earliest studies on elderly subjects Effect of a 12-Week Yoga Intervention on Fear of Falling and Balance in Older Adults: A Pilot Study researchers found improvement in balance and reduction in fear of falling in 14 adults over the age of 65 after a 75-minute, 2X/week, 12-week yoga intervention. Participants reported fewer physical constraints, felt more relaxed, and enjoyed the program. In a study involving nine older women The effectiveness of therapeutic yoga on community dwelling older adults with and without balance deficits, researchers explored the effectiveness of yoga on preventing falls by putting the subjects on a four-week yoga intervention, including one supervised session per week plus a home therapy program. All the older women experienced improvement in balance and expressed overall fitness whereas a control, a non-yoga group of four subjects, demonstrated no improvement in balance. In another study A yoga-based exercise program to reduce the risk of falls in seniors: a pilot and feasibility study, researchers studied the impact of yoga on balance and balance confidence in 27 older adults from a retirement community and found improvement in balance and the ability to transfer from the floor smoothly. Nearly all of the subjects improved their times on the one-legged standing test. The subjects also reported feeling more steady, improved in gait, and less fearful of falling. 
When recommending yoga for elderly people with balance issues, researchers advise they begin with seated poses first then slowly move into static standing postures. After that they can increase movement and lastly move to the floor. The use of yoga props, including a strap, blocks, or bolster will help people get into postures that would otherwise be too challenging. Straps are particularly helpful to improve leg movements, such as crossing the legs and hamstring stretches while in the seated position. They are also a great way to improve stability in one leg balance poses that also allow you to work on engaging the core and lengthening the spine. Blocks come in handy or resting the hands on a relatively stable surface especially in those poses involving standing stretches. Both blocks and bolsters are great for restorative poses to allow elderly people to experience the effects and benefits of the practice without too much exertion. In addition, encouraging people to work with their inhalations and exhalations in all the poses and including a short pranayama practice and mindfulness meditation before or at the end of the session helps to reduce anxiety and fear of falling.
In general people like to see anecdotal studies and personal experience supported by scientific observations. Despite the limited studies with small-sized populations that I highlighted in this post, based on the advice of the experts in the above-mentioned articles and my personal experience with some elderly people, I do believe that yoga can help the elders achieve increased strength, stability, coordination, and well-being. 
For further information on improving balance with yoga, see the following posts: 
In Want to Improve Your Balance? Take Off Your Shoes! Nina emphasizes that yoga asanas—whether or not they are balancing poses—when performed with careful attention to the alignment, helps to develop our balance and attention. In that same article, Nina argues why exercising with bare feet is the best way to improve your ability to balance. 
In Friday Q&A: Feet and Comments both Baxter and Shari fielded questions from readers who had trouble balancing in Tree pose and who also wore orthotics. Shari recommends that the reader spend some of her time practicing with bare feet to help her with her balance. 
In The Importance of Preventing Falls, Baxter discusses Dr. Atul Gawande's book "Being Mortal" regarding the importance of feet. According to the book, in addition to overall balance, a person's functional ability can be gauged by checking the feet. 
In News on Balance, Falling, and Yoga Baxter also talks about how improving balance not only reduces the chances of falling and fractured bones, but it also reduces the chances of other sorts of injuries as well. 

In Techniques for Improving Balance Nina describes basic techniques for improving balance that she and Baxter recommend

In Easy Balance Sequence for Regaining Confidence Nina provides a sequence she designed to help those with fear of falling.

In Featured Sequence: Easy Balance Practice Baxter provides an easier sequence for helping improve balance. 
Subscribe to Yoga for Healthy Aging by Email ° Follow Yoga for Healthy Aging on Facebook and Twitter ° To order Yoga for Healthy Aging: A Guide to Lifelong Well-Being, go to Amazon, Shambhala, Indie Bound
or your local bookstore.