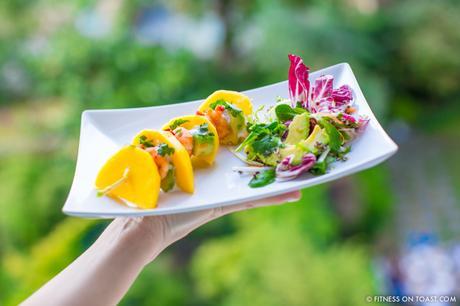 Recipe time: this delicious dish, as ever, is supposed to be quick, easy and healthy, whilst being loaded with nutritious flavour. My personal favorite part is the mixture of the sweet, smooth mango against the crispy fresh salad, the tangy ginger, lime and warm grilled prawns. It's got such an awesome diversity of texture, temperature and taste, the holy trinity of 'T's' :D  I've added a touch of chilli, as I love a bit of a kick to fire up the metabolism. 'Accessorising' this salad with a skewer proves once again the breadth of variation open to you with these leafy dishes; experiment with salad, as it's not limited to a tragedy of mere cucumber and tomato…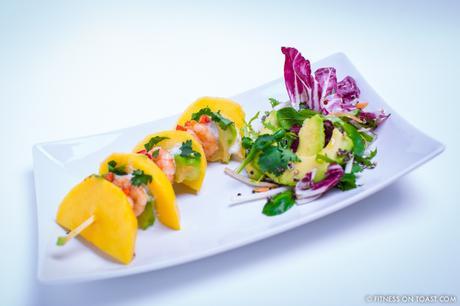 WHY'S THE DISH EXCELLENT?
1) MANGO:
As with much of the rest of its fruity family, mango is jam-packed with vitamins and minerals. The sugar content is relatively high (circa 15g/100g), natural fructose as it may be – however a fairly small amount is used per serving. Mango is a great source of fiber and water which helps with digestion, with a high content of vitamin A which helps promote tissue repair, including skin, hair and eyes – as well as plenty of vitamin C, iron and antioxidants.
2) PRAWNS:
Prawns are a superb, naturally low-fat source of protein (with circa 21g/100g of protein being compared to c. 1g/100 of fat). Whilst they're also a wonderful source of omega-3 fatty acids (good!), they're also rich in cholesterol and naturally high in sodium. Too much sodium should be avoided as it increases the chances of heart disease and osteoporosis. I'd avoid adding any additional salt as prawns are fairly high and a small quantity (>200g) may mean you quickly stray over the recommended daily allowance! Nonetheless, they're full of Vitamin B12, Iron and are a very good source of Vit-D & selenium.
3) CHILLI:
The chili can help to dupe your metabolism. It contains the chemical 'capsaicin', which gives it that heat and potency, and also stimulates a natural process where other food you eat is converted more immediately into heat. This process is called thermogenesis, meaning you burn up calories more rapidly, rather than storing them on your waist! Thus, adding a bit of spice can help to increase the pace of thermogenesis. More good news; Ginger, another ingredient in this dish, does the same…
4) GINGER:
Ginger is a well known natural tool to combat digestive problems (excess gas in particular as well as nausea and pain. Ginger contains anti-inflammatory agents called gingerols (chemically related to chilli's capsaicin). It's believed to help reduce the pain and increase mobility from osteoarthritis or rheumatoid arthritis, and can be eaten dried, marinated (as with sushi), or eaten fresh as in this little dressing…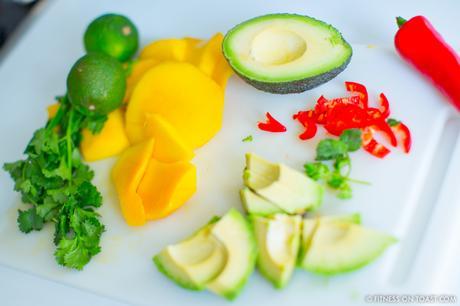 INGREDIENTS:
1. 100g Fresh Prawns
2. Mixed Leafy Greens
3. Mango
4. Sprouts
5. Fresh Coriander
6. Avocado
7. Fresh Chilli pepper
Ginger dressing
1. Ginger
2. 0% Fat Greek Yoghurt
3. Lime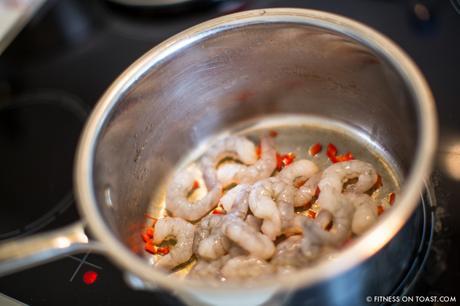 HOW TO?
1. Pop the ginger, yoghurt and lime into a blender. Alternatively finely cut or shred the ginger and then stir it into a bowl with the yoghurt and lime.
2. Cut the mango into round slices of a medium thickness (no more than 1cm, is my taste)
3. Toss the mixed salad in a bowl and add a drizzle of olive oil and lemon.
4. Grill the prawns.
5. Using a skewer, lance the prawns and mango slices in an alternating pattern, 2:1 ratio prawn:mango!
6. Gently place two skewers atop the salad and drizzle some of the ginger sauce on top. Serve your meal for 2 and devour!
Bon ap! Faya x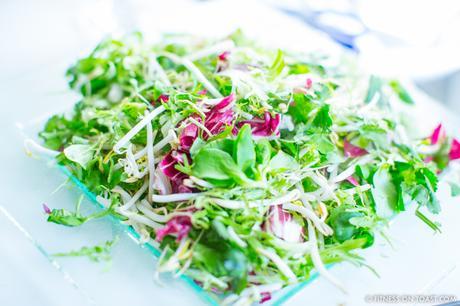 ___________________________
YOU MIGHT ALSO LIKE: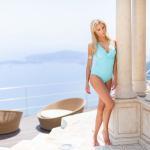 LA CHEVRE D'OR ???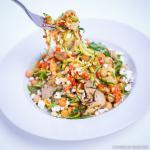 COURGETTE PASTA!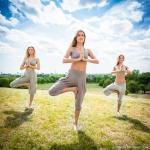 HOUSE OF DHARMA!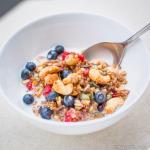 QUINOA GRANOLA!