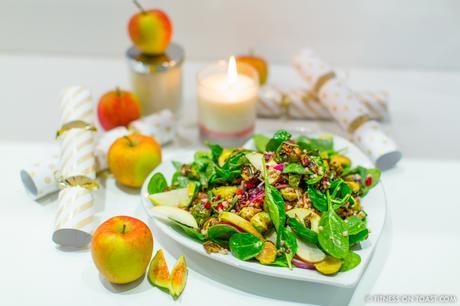 I hope you've all had a wonderful Christmas! It may have been an indulgent one (rightly so!) but there comes a time to re-focus, transition off the mince pies, and to re-establish health-mode. I'm guessing there are a few surplus Brussel sprouts knocking about at present (either in your fridge or at the supermarket); this 'Sprout, Apple & Barley Salad' is an explosion of color and taste which happens to take advantage of these little Christmassy miracle orbs! Brussel Sprouts are super healthy (ultra-low GI, almost calorie-free, low in saturated fat, cholesterol-lowering properties, a very good source of dietary fiber & most vitamins like A, C, K, B6). They've also been the subject of dozens of prominent research studies into their anti-carcinogenic properties. This is a delicious and easy-to-make salad which can be enjoyed anytime of the year, either hot or cold, but is a particularly good transition now the xmas glut is over! Click MORE to get the full recipe…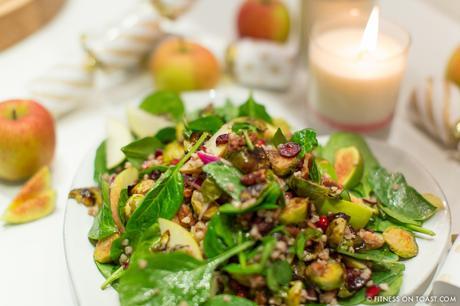 INGREDIENTS:
– c. 500g of (small) Brussel sprouts.
– 1 thinly sliced Apple.
– c. 200g Baby Spinach Organic leaves.
– 100g crushed Pecans
– 1 Pomegranate
– 75g Dried Cranberries
– ½ cup of Vinegar
– 1 tbsp. Manuka Honey
– ½ cup of Olive Oil
– Pinch of Pink salt
– 1 cup of Organic Pearl Barley
HOW TO:
1) The Barley: Bring 1 3/4 cups water to a boil, then add 1 cup of barley. Reduce the heat to a simmer for about 10 to 15 minutes.
2) The Brussel Sprouts
Preheat the oven to 200 degrees. Rinse the Brussel sprouts and slice in two. In a bowl mix a drizzle of olive oil, manuka honey and a pinch of pink salt. Toss the Brussel sprouts into the mix so that they're fully but lightly coated. Finally, with the face down spread the Brussel sprouts on a baking sheet. Roast the Brussel sprouts for 15 minutes, take them out and without turning then shake them a little on the tray. Then pop them in the oven for another 15minutes. Remove and let them cool, alternatively have them hot.
3) The Pecans
Crush the pecans and coat them in a thin layer of manuka honey. I love to add a pinch of chili for a bit of a kick but I accept that's not to everyone's liking! Spread the pecans on a tray and roast for circa 2 minutes. Keep an eye on them as you don't want them to burn. Let them cool before adding them to the salad.
4) The rest!
In a bowl mix the dressing – add the vinegar, manuka honey, olive oil and a pinch of salt. Add the thinly sliced apple, cranberries, rinsed baby spinach and pomegranate.
5) Put it all together!
Toss all the ingredients in a massive bowl and tuck in!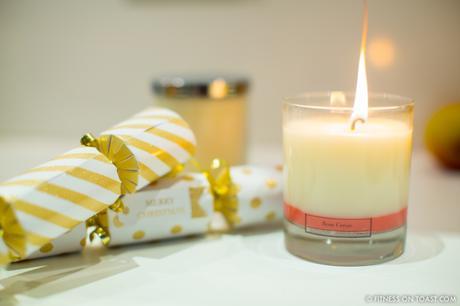 _______________________________
YOU MIGHT ALSO LIKE: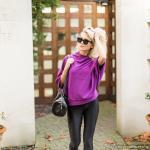 IYENGAR YOGA!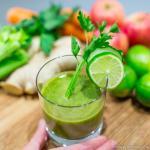 VEGGIE JUICE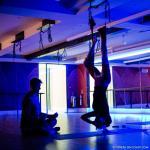 ANTI GRAV YOGA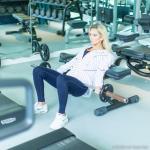 GLUTE WORKOUT!