Pizza Hut Cavatini
There are different to cook a common ingredient, basically copying others. But not all the time a person is successful and I have been in a way experimenting on this pizza hut cavatini recipe to make is just taste like what you actually pay for in pizza hut. This pizza hut cavatini if done perfectly by the book can actually taste better than what you buy because you know all the ingredients that has went in it plus the effort is well worth it. Now this pizza hut cavatini can be incorporated in your healthy lunch ideas and you`ll have an amazing healthy lunch. Plus if you enjoy it you can have it as any of your other meals and not only as one of your healthy lunch ideas.
Ingredients:
1 large green pepper, diced
1 large onion, diced
2 oz. (1/2 stick) margarine
1 teas. garlic powder
1 lb. assorted pasta (wheels, shells, spirals, ziti)
1/2 lb. pepperoni , sliced thin , then cut in half
8 oz. mozarella cheese (shredded)
1/2 lb. hamburger (browned)
1/2 lb. italian sausage (browned)
1 – 16 oz. jar meat flavored Prego sauce
Directions:
Melt margarine over medium high heat in a skillet.
Add onions, peppers, and garlic powder.
Saute for about 4 minutes.
Meanwhile, cook pasta according to box directions.
Heat sauce and combine with cooked hamburger and cooked sausage.
Use cooking spray to lightly grease an 11 X 13 casserole dish.
Place 1/2 of the cooked pasta in the dish, followed by 1/2 the vegetables, 1/2 of the pepperoni, and 1/2 sauce.
Repeat another layer.
Spread mozzarella cheese over top.
Bake at 350 degrees for about 45 minutes or until cheese is melted.
Enjoy!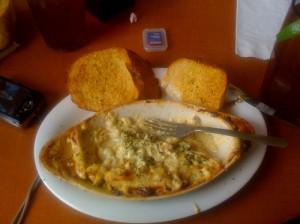 Photo by: Javier Aroche