One might think what is this Oyster Sauce good with. Honestly this is one of the finest recipe provided by healthy lunch ideas. I have tried this Oyster Sauce on steak, fish, chicken, and even on vegies. To me honestly this Oyster Sauce taste good on pretty much anything. But that is only me I know my friend only like this Oyster Sauce on steak. This great Oyster Sauce can be had on pretty much anything you can think of. Now my mind is limited to certain ingredients. But if try is on some fancy ingredient please do share with us. Anyways give this Oyster Sauce from healthy lunch ideas a try and share with us you thoughts.
Ingredients:
1/2 lb. shucked oysters with liquid
1 Tbls. water
1 teas. salt
light soy sauce
1/2 Tbls. dark soy sauce
Directions:
Drain oysters and reserve the liquid.
Mince oysters and place in a saucepan.
Add water and reserved liquid and bring to a boil.
Reduce heat, cover and simmer about 10 minutes.
Remove from heat, add salt and cool completely.
Force the mixture through a fine sieve into sauce pan.
Measure the liquid, adding 2 Tbls. light soy sauce to each 1/2 cup.
Add dark soy sauce and bring to boil.
Reduce heat and simmer gently for about 7 minutes.
Cool to room temperature and pour into a sterilized jar.
Seal and store in the refrigerator.
This sauce can be kept for several weeks
Enjoy!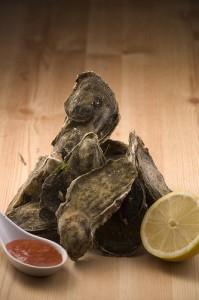 Photo by: ChefMattRock