While valentines day is upon us why not try to impress your family members with this Red Lobster Tartar Sauce  from healthy lunch ideas. Not only is it easy and simple to make it is just the thing that will enthusiastically drive you to finish it.  The bottom line being that your ingredients needs to be fresh otherwise it will just be a bore. But whatever the case is I hope you will also share this lovely Red Lobster Tartar Sauce  recipe with your friends if you enjoy it. Please do give it a try and share with us your experience on this lovely Red Lobster Tartar Sauce recipe from healthy lunch ideas.
Ingredients:
1/3 cup Miracle Whip Salad Dressing
2/3 cup Sour cream
1/4 cup Confectioner's Sugar
3 Tablespoons sweet white onion, chopped fine
2 Tablespoons sweet pickle relish from jar with the relish juice
3 Teaspoons carrot, chopped fine
1/4 Teaspoon salt
Directions:
Chop the sweet white onion in food processor, put in small container and set aside.
Chop carrot in food processor, and add to onion.
Mix in remaining ingredients and stir to blend thoroughly.
Do not use electric mixer.
Refrigerate for at least 2 hours or overnight to let flavors blend.
Enjoy!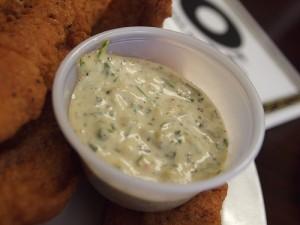 Photo by: Shreveport-Bossier: Louisiana's Other Side