by Nina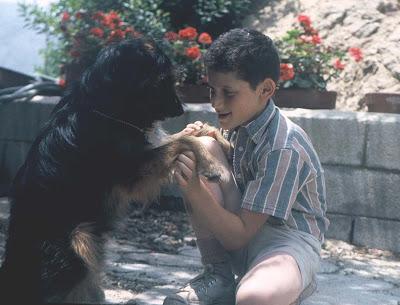 Back in the Day: My Brother Danny and Our Dog Nikki
"Hear now the wisdom of Yoga, path of the Eternal and freedom from bondage.
No step is lost on this path, and no dangers are found. And even a little progress is freedom from fear." —The Bhagavad Gita
When my son was in the fourth grade, he came to me with a problem. His teacher had asked him to write a list of ten possible resolutions he could make for the new year, and the thought of coming up with ten things he needed to change about himself was making him utterly miserable. But to this dedicated student, skipping the assignment was not an option. "What can I do, Mom?" he asked me sadly. "Well," I replied, "how about if you came up with some resolutions that would be very easy and fun to keep?" "Like what?" He looked at me doubtfully. "Let's see," I mused, "how about something like: pet more dogs?"He lit up with a smile and then went off in much better spirits to write a list of resolutions for his teacher (and keeping the "pet more dogs" resolution throughout the year did turn out to be a lot of fun.) I'm bringing this up now, because if you are planning on making any New Year's resolutions regarding yoga this year, I'd advise you to take the same lighthearted approach.If you want to start a home practice, rather than deciding to do full-length class everyday—a rather overwhelming commitment—think small. As my son did, try to come up with a resolution that will be easy to keep and fun to do. How about:
Do one Downward-Facing Dog pose a day five days in a row for one week. (You can pet yourself afterward.) 

Look through a yoga book and find a picture of a pose you've never done and just try it. (Be sure to laugh if you get totally confused or fall out of the pose.) 

Download a yoga nidra practice or guided relaxation onto your iPod and try it once. (You might become addicted.) 

Clear some wall space, figure out what to use for props, and set yourself up for Legs Up the Wall pose at home. (If you decide to do again some day, you'll be ready.) 

Practice seated meditation for five minutes a few times in a week. (If it feels good, try it for a second week, then a third, then....) 

Buy yourself an eye pillow and "test" it at once or twice in Corpse pose (Savasana). 
Anyway, you get the idea. The thing is, that resolutions that are too challenging and time consuming are likely to fail, while any small, easy, fun steps can help you get started on the path to a home practice. That's what happened to me: I started practicing just a few poses at home, and gradually over time my practice grew organically. But even if your practice stays small, as The Bhagavad Gita says: "No step is lost on this path, and no dangers are found. And even a little progress is freedom from fear."
Readers, I'd love to hear about any yoga resolutions that you're making for yourself or that you'd recommend for others, especially some simple and/or colorful ones.
Subscribe to Yoga for Healthy Aging by Email ° Follow Yoga for Healthy Aging on Facebook ° Join this site with Google Friend Connect