May 13, 2012 by Tatianna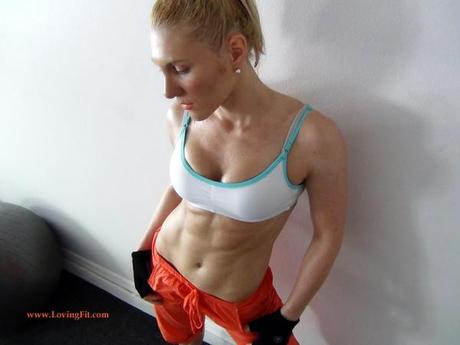 Hello my Lovies,
Today I finally have another Ab workout for you. It's been a while since I've done a new one, but I am regularly going to start making more Abs routines. This one is probably one of my favorite abs routines that I've done so far. There are 10 exercises and every exercise is very challenging.
The secret to great abs is quite simple and it looks like this: Good Nutrition + Proper Training of Core and Abs + Proper Rest & Recovery = Great Abs.
Anyone can have defined abs!  Your genetics have absolutely nothing to do with your abs. In my family I am the only person who has muscle, especially abs. If I were to believe my genetics then I should of had skinny legs, no abs, flat butt and I would have to starve my self to be thin, because in my family everyone gains weight very quickly. I remember my grandma making fun of me for eating a lot, she use to say " Ha Ha, wait and see when you turn 25 you're gonna get fat with these eating habits because in our family we tend to gain weight quickly ". Now I am 29, and I still eat the same if not more then I used to, and I can proudly say that my metabolism hasn't changed at all, it's actually better then it was before. So next time someone tells you that with age we loose muscle and our metabolism slows down,  prove them wrong!
One more thing that I would like to point out, as girls we want to have nice abs but we also want to have a thin waist, so I would recommend to avoid doing too many side plank holds and do more side to side bends. To make my waist smaller I do side bends about 4-5 times a week 20 – 60 reps, 20 at a time. Side to side bends really help to tighten the side muscles without bulking them up. You can do that while you watch TV, or right after you wake up in the morning. If you are a guy then you can skip on side bends and do side planks holds instead.
Now let's get to the workout! Assuming you are going to add this Ab routine after your regular workout, then you should of already warmed – up.  Make sure to watch workout recap part of the video where I go over the proper form of every exercises as well as variations for beginners.
Workout Explanations
I did use my timer as a stopwatch, but this workout is really not about time at all. It is all about focusing on form and contracting your abs the correct way with every rep. In this routine I used 12 lbs medicine ball and a balance ball. If you don't have the equipment, I show you the variations in the video. You can also make this equipment your self, check out this pos " Fitness Equipment On A Budget ".
There are 10 exercises total but there is only 1 round so make it count!
Slide & Touch ( using a medicine ball ) – 30 reps
Reptile – 30 reps
Side Plank Mill – 15 reps per side
Side To Side Medicine Ball drop – 30 reps
Oblique Knee Tucks – 30 reps
Sitting Bicycle – 30 reps
Pulse Ups on a Balance Ball – 30 reps
Slow Leg Raises & Butt Lift – 30 reps
Let Switch using a momentum – 30 reps
Oblique Climber Jump – 30 reps
Always watch your form, because form is more important then speed!