by Nina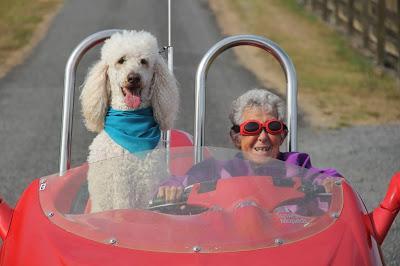 Norma, about one month before she died
(borrowed from Facebook)
"When we asked Norma earlier how she wanted people to pay their respects, she said, 'Wouldn't it be nice if others could just spread joy in the world.'
So, if you are inclined to send flowers, please send someone a surprise bouquet and tell them about Miss Norma. Donate to a charity of your choice. Pay it forward in your own community; pay it forward in your own family; take your grandmother out for lunch; heck, take her out for a beer!" 
 
The last time I wrote about facing our mortality with truthfulness (satya) in the face of abhinivesah (fear of death/clinging to life) was pretty recently in my post about my aunt
A True Act of Love

. Now I can't help myself from writing about it again because I woke up this morning thinking about an inspiring article I read yesterday 91-year-old who inspired thousands by skipping chemotherapy to go on end of life road trip dies. 

Some of your may have already read or heard about Norma Bauerschmidt, a 90 year-old widow who after being diagnosed with uterine cancer and told by her doctor that surgery, radiation and chemotherapy were unlikely to treat the illness decided to go on a road trip with her son and daughter

-

in

-

aw instead of undergoing cancer treatments.You can follow the story of her year-long road trip on Facebook where her daughter

-

in

-

law documented the whole year-

long

journey, from funny and joyful adventures to Norma's final days in hospice. 

The reason I was particularly interested in this story is not because I myself would like to spend my last year of life on a road trip (I actually would not!), but because I think the popularity of this story is an indication that we're actually experiencing a shift in our culture regarding our willingness to admit to our mortality and to make more informed decisions about our end of life care. And for me this is wonderful news!

I also noticed that the story as it was told on Facebook had an intentional focus on finding contentment (santosha) in the present moment. For example, Norma's daughter-in wrote:
"Over these past 12 months, all of us have learned so much about living, caring, loving and embracing the present moment. No matter where we are, when asked where her favorite spot has been on this trip, Norma now says, 'Right here!'" 
So let's just take a moment today to appreciate Norma and her family's willingness to face mortality with honesty and, yes, even contentment. And finally I have to say

that

the part of this story I loved the most was that Norma wanted people to pay their respects to her by spreading joy

in

the world, such as by sending a surprise bouquet to someone, donating to a charity, or sharing a beer with Grandma. Let's all do it!
Subscribe to Yoga for Healthy Aging by Email ° Follow Yoga for Healthy Aging on Facebook ° Join this site with Google Friend Connect