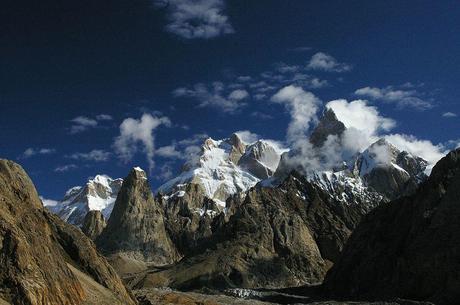 The summer climbing season in Pakistan has been somewhat slow to develop so far this year. A few teams have been making their way to their Base Camps, and have started to acclimatize in the Karakoram and Himalaya, while others have been left waiting in Islamabad and Skardu, thanks to a new rule that states that all climbers on a permit must travel together. But things are starting to pick up steam now, and more climbers are arriving in country, even as a cloud of unrest creates a bit of uncertainty.
Over the past few weeks, there has been a surge of violence and unrest in Pakistan, some of which has been aimed at creating disruptions at airports there. Obviously, being able to travel throughout the country safely is of chief concern, and considering the incident last year in which foreign climbers were killed in Base Camp on Nanga Parbat, some teams have taken pause to assess the situation. One such team is the Huber brothers – Alexander and Thomas – who were preparing to take on the 7145 meter (23,441 ft) Latok I. The Hubers, along with their companions Dani Arnold and Mario Walder, have decided that the risks to their safety in Pakistan are too high, and have decided to pull the plug on their expedition. They will reassess the situation next year, and possibly give it a go then.
Meanwhile, other climbers are forging ahead with their plans. For instance, Alan Arnette leaves for Pakistan today, and will be attempting K2 in the weeks ahead. He shared some departing thoughts in a blog post this morning, as he prepares to get underway. Of course, he'll be blogging about every aspect of the expedition, and we're likely to get one of the most comprehensive coverage of any K2 climb ever thanks to his efforts. As usual, Alan is climbing to support the Cure Alzheimer's Fund, an organization that is very near and dear to his heart.
With 2014 marking the 60th anniversary of the first ascent of K2, there are a number of teams that will be attempting that mountain this summer. Amongst them is a joint Italian-Pakistani squad that has reached BC, as well as pair of Greek climbers who are just getting settled ahead of their first rotation.
Also on their way to K2 BC are Adrian Hayes and Al Hancock, who got held up in Skardu thanks to the new rule mentioned above. They hope the rest of their team will join them soon, so they can begin the final push to Base Camp. In the meantime, they've been staying active on some local hiking routes, and when he time comes to begin their trek, they hope to finish it in just five days, rather than the standard seven to eight.
Aussie climber Chris Jensen Burke will also attempt K2 this summer, but first she'll warm-up on Broad Peak. She hasn't updated her blog in more than a week, but should be on her way to Base Camp by now. Safety was a major concern for Chris last year, so she had planned to stagger her stories by a few days in an effort to not reveal too much detail about her current condition. Hopefully, once she's in BC, we'll get an update on her progress.
Austrian climbers David Lama, Peter Ortner, and Hansjörg Auer, have come and gone from Broad Peak, after climbing as high as 7000 meters (22,965 ft) as part of their acclimatization for their real goal. The team has left for Masherbrum, where they hope to scale that tough 7821 meter (25,659 ft) peak. Their departure from Base Camp on BP didn't go unnoticed however, as Italian climber Giuseppe Pompili wrote that he had arrived right after the Austrians left, and noted that "They left a pile of rubbish." That's bad form out of experienced mountaineers that should know better.
Turkish climber Tunç Findik arrived in Skardu on Tuesday of this week, and is probably now on his way to the Gasherbrums. He hopes to summit both GI and GII this season, and it seems he may have those mountains to himself. The very experienced Findik is eager to get his expedition underway.
That's all for now. More news soon as things in the Karakoram and Himalaya begin to heat up.