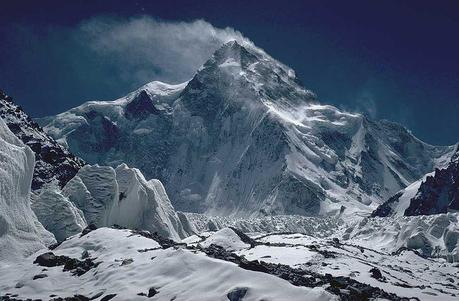 For most of the 2012 Pakistan climbing season I've been posting regular updates on the progress of the teams including some major success stories on Broad Peak, Nanga Parbat, Gasherbrum I and of course K2. One of the climbers whose updates I always anticipated reading was Al Hancock, who first attempted to climb BP then moved over to K2. For the past week we've been waiting for word on his whereabouts as we knew that his team was preparing for a summit push. Today Al finally posted an update and it's a doozy.
I had speculated that Al, along with his porters and teammate Matt, were still on the mountain and attempting a summit bid. It turns out that was the plan, but K2 had other ideas. The mountain had been more than generous a few days before, allowing as many as 30 climbers to summit successfully. That's a big number for a peak that is known as the "Savage Mountain. " But while they were in Camp 1 the weather suddenly took a turn for the worse, closing the season in swift and dramatic fashion.
Al starts the update by describing the trek up to C1 where he and Matt decide that one of the three porters isn't experienced enough to be climbing a tough mountain like K2 and that he needs to be safely escorted back to Base Camp. Matt takes on that responsibility and sets off back down the mountain. Not long after he is gone, Al and the two remaining porters are hit by an avalanche that lets up just long enough to give them an opportunity to take shelter in their tent as the bad weather sets in. And what incredibly bad weather it was.
For five days the three men huddled in the tent, occasionally going out to dig snow off their shelter and to take care of other duties. A storm raged the entire time, with very high winds and blizzard conditions.   As the days passed, their fuel and food began to dwindle and Matt attempted to deliver supplies from BC but was turned back by the storm. There was no where to go, up or down.
Eventually Al and his guides decided they couldn't stay on the mountain any longer and that they had to dry to descend. Immediately after getting dressed and leaving the tent, it was ripped from the mountain by the gale force winds that were buffeting their camp. With no where to take shelter, the men started down and...
Obviously they made it as Al is filing this report. But the rest of their story is to be continued in a future dispatch. I definitely recommend you read Al's story as it is well written and tells the start of a harrowing tale. I'm sure the descent is going to be a wild read as well so hopefully he'll post it soon too.
If all of those summits amidst good weather last week led you to believe that K2's reputation is overblown, Al's account of his climb will remind you why this is the Mountaineer's Mountain. Crazy story.