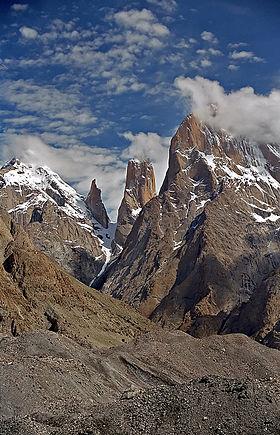 One of the few teams still in Pakistan this summer is the Trango Air Wall squad. The four person group that consists of Liv Sansoz, Tim Emmett, Jérome Blanc-Gras and Manu Guy have been attempting to climb the Great Trango Tower, a 6286 meter (20,623 ft) granite spire and then BASE jump from the top. Updates to their website have been few and far between, although there have been status reports on their Facebook page where today we learn that they are abandoning the climb.
The news actually comes via an update by Trey Cook on the EpicTV Daily. Trey reports that he spoke directly with the team while they were still on the Tower and they said that they were successful in their climb but poor weather was preventing them from reaching their exit point. The team spent 12-14 hours scaling the Great Tower but rapidly deteriorating conditions were preventing them from actually making the jump. So, with that in mind the four climbers were preparing to descend in the usual fashion then return to Base Camp before starting the long journey home.
This is just another example of how fickle the weather has been in the Karakoram this year. Aside from a short weather window at the end of July, it has been nearly impossible for anyone to climb in the region this summer. Thankfully some of the teams were able to achieve their goals when that window opened or it would have been an awful season indeed. The question is whether or not 2012 is an anomaly or if shifting global weather patterns are giving us a glimpse of what to expect in the future as well. At this point there is no answer to that and we'll just have to wait and see how things play out next summer.
Congratulations to the Trango Air Wall team on a successful climb. It's a shame they didn't get the chance to BASE jump, but job well done none the less. Hopefully everyone will descend safely and get home in one piece.