by Bridget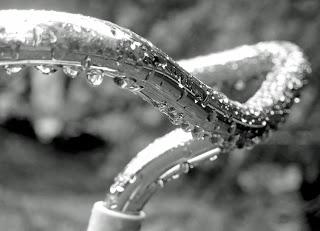 Wet Handlebars by Melina Meza
While not yet a senior myself, I do teach seniors at the North Berkeley Senior Center. I came to yoga with serious, debilitating back pain – caused by high-speed, over-the-handlebars bike accidents in my teens, and untreated whiplash from several car accidents later on. The gentle Iyengar-style yoga taught at The Yoga Room in Berkeley set me on a path of healing. So to me, yoga has been a therapeutic, kind and compassionate endeavor – one that has strengthened my back and quieted my mind to an extraordinary degree. Because of this, teaching seniors and working with any physical limitations they may have has been a pretty natural process.
My students at the senior center range in age from late-50s to late-80s. Within the group, there's also quite a range of abilities, but there is such a sweet cohesiveness, and a sense of community and support for each other. I try to keep class moving along for the more active students, but everyone is patient when I spend some extra time making sure a new student can keep up. A core group arrives early to set up chairs and bring props into the room from the storage closet, and at the end of class everyone works together to get the room cleaned up, chatting about their interesting, full lives as they go. Last week, one of my students told me that she always feels better after she comes to my class. I paused for a moment to take that in and I realized that I always feel better after teaching it too.
These active seniors are always up for trying something new. I remember the first time I taught a modified inversion – handstand with feet on the chair – an 83-year-old student (after I'd offered an assist and some suggestions for strengthening her pose) stepped down from the chair, looked up at me, and said, "That was FUN!" Of course, handstand isn't for everyone, and we work carefully up to a final pose. I always offer alternatives, explain potential health hazards, and I often turn poses into "partner poses" just so they can have someone watching and can help each other to remember the details. The partner work also cuts down on the number of people actually attempting a pose at one time, giving me a better chance to keep an eye on the entire room.
While active, eager and ambitious, they also tire more easily than my other student populations. One of my first experiences teaching seniors, I was substituting a class regularly taught by Herta Weinstein. This large class came with an assistant who knew the students well. After I'd led them through nearly half of the ambitious practice I had planned for the hour and a half class, the assistant leaned over and whispered, "I think they need to rest." I was surprised to realize that the sighing I was hearing was about them wanting a break, not them wanting me to hurry up!
There's never any rush to get it right. That's the beauty of yoga - there is always something new to work on, so you'll never run out of topics to explore, muscles to strengthen and alignment to finesse. My students have reported feeling stronger, better-balanced and more energetic with the addition of the yoga practice. From my perspective, they are all gaining form and body awareness that is gorgeous to behold.
One of my favorite things about teaching this population is their dedication, both to yoga and to the community they've developed in the room. They rarely miss class, most of them will let me know of any absences ahead of time, and they're always glad to come back. Another is that they're tremendously creative and interesting. I've attended piano concerts, photo exhibits, and a Weavers Guild exhibit, all featuring the work of my students. I've also attended live performances, eco-movies and co-op dinners with my students, and any time it's cold you'll see me wearing a hat crocheted by one of them. My life is so enriched by their presence, and I continue to count working with them among the highlights of my week.