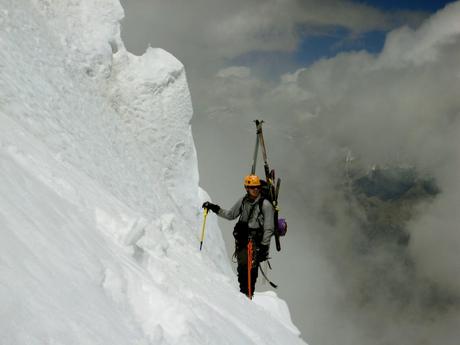 A few weeks back I wrote about an impressive new film called The Alaskan Way that is set to make its debut at adventure film festivals this spring. That film takes a look at the risks and rewards of outdoor adventure centered around heli-skiing in the Alaskan backcountry. Ben Clark, the filmmaker behind the project, is a veteran of 15 Himalayan expeditions including a successful summit of Everest. In continuing of his exploration of the themes explored in that film, Ben has written an insightful and thoughtful piece for the Osprey Packs Blog entitled "Looking Back is Moving Forward" in which he shares some of his harrowing experiences during his climbing career and the decision he made to step away from those dangerous pursuits when he finally felt like he was cheating the odds.
At the beginning of the article Ben puts his obsession with climbing into perspective by telling us the impact the sport had on his life between the ages of 20 and 32. It became an all consuming passion that drove him quite literally to new heights as he scaled and then skied back down a number of big mountains. It was more than just something that he did in his spare time. It was a way of life and he went to great lengths to chase his high altitude dreams.
But the more he pursued his passion the more often it put him into a position of high risk. Ben shares stories of hanging precariously from a rock face in a remote valley in China where one wrong move would have sent him plummeting to his death. He also talks about huddling on a ledge in the Himalaya for five days while he and his teammates waited for a storm to pass. As those incidences became more frequent, it forced him to reevaluate his goals and the level of risk he was willing to accept. All of that came to a head on a climb last year during which he decided it was time to "press pause" to consider what was important to him in his life at this point.
This article puts readers directly into the mind of a mountaineer and gives good insights into what they thing about when weighing the risks of the things they do. I think you'll finding a fascinating read to say the least.
Click here to read it in its entirety.