Happy Monday! It was a crazy jam-packed weekend filled with Halloween festivities, fun with friends, and of course, the NYC Marathon! 
The marathon runs right by my apartment, so I woke up early and headed out to cheer on all the athletes! First up were the wheelchair athletes. I am AMAZED at these folks. It's hard  enough to run 26.2 miles but do wheel your way up and down hills and across bridges for 26.2 miles?! That takes some serious upper body strength. Kudos to you all!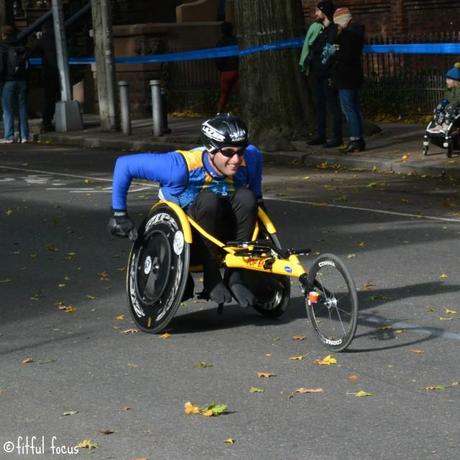 Soon after, the professional women zipped by. I was standing between mile 8 and 9 and they reached us in about 48 minutes. So fast! Zooooommmmm go the women!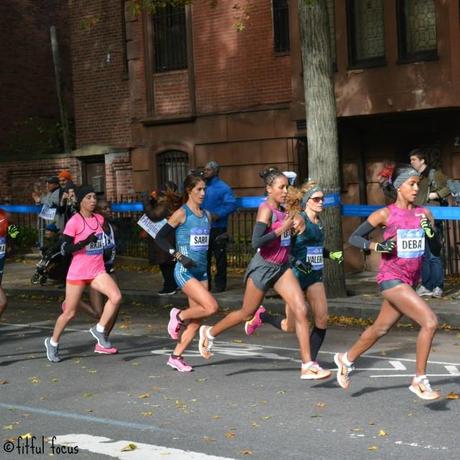 I headed inside for a bit after that because it was pretty chilly out. All the runners must have had to battle some serious wind going across all the bridges, but about an hour later, I went back out with my sign to cheer everyone on and hopefully spot some friends. What do you think of my sign?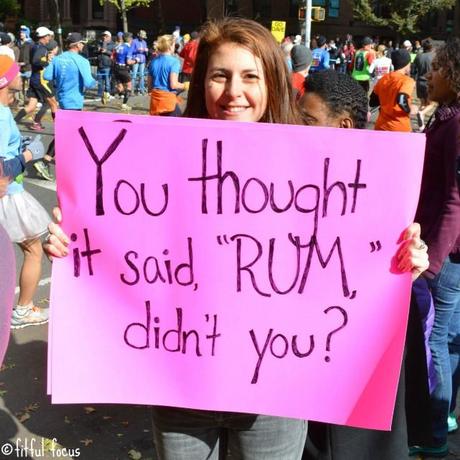 My goal was to make the runners laugh a little bit and forget about the miles ahead. I got a lot of laughs, smiles, and, "Yes! I did!" responses, so I think it was a success. 
You know what else was a success? All of these amazing running outfits!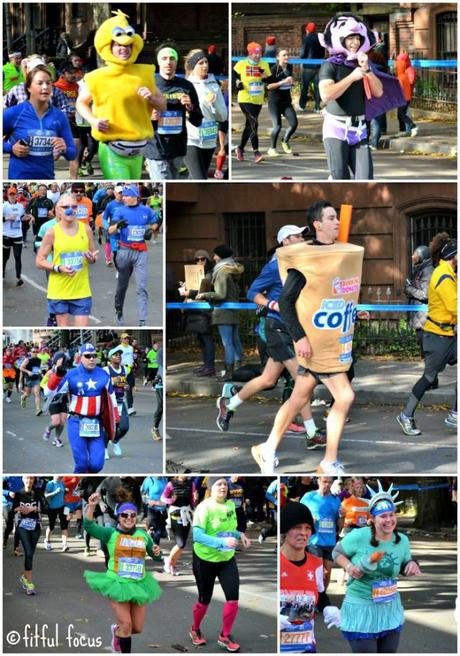 Big Bird, Count Chocula, a man juggling while running, Iced Coffee, Captain America, a Ninja Turtle, and the Statue of Liberty! 
Huge huge congrats to all of the runners, and special shout outs to Angela, Katie, Ari, and Erica! You ladies rocked it! 
---
Inspiration from the NYC Marathon, fun race signs, and great running outfits - all in one post!
Click To Tweet - Powered By CoSchedule
---
All this marathon talk has got me wanting to run another one, so you know what? I'm gonna! I decided to do the NYRR 9+1 program so that I can run the NYC Marathon in 2016!   
That means that next year, I'll be running 9 NYRR races and volunteering at one NYRR race or event to get guaranteed entry into the NYC Marathon in 2016. I'm already signed up for 3 races (two 4-milers in February and a 10k in March). I'm excited to get back into running and tackle my next 26.2!
Let's Chat:
Did you watch the NYC Marathon either live or on television?
What's the best race sign you ever saw?