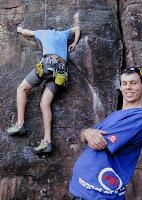 I managed to fit in a weekend with a few mates down on the Shoalhaven River in Nowra recently. We stayed at the ski park on friday night and took conoes across to Thompson Point on Saturday morning. It was an absolute stinker at around 40c and fairly humid.
We started off at Vanderholics (18) which was still in shade a ready for the taking. My buddy Stefan started off on lead. He didn't have too much trouble but the crux was probably just past the second bolt. You get a brief rest at a cave halfway before pushing on to the top and there is a tough move for pumped arms just before the rap rings. Stefan rapped off and it was my turn to lead next. I faffed about under the third bolt and by the time I made the top I was too pumped to make the final move. We all had a go on top rope and then moved on to an easier wall at the Descent Gully.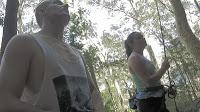 We got to the gully just as the sun came over onto the crag. Unfortunately it made the climbing fairly uncomfortable. We top roped some of the easier routes on the wall but had to get out of the heat pretty quick. We headed down to the river and jumped off the rocks into the water. We also did some bouldering over deep water which was pretty fun. The heat had really got to us though. Rather than having another climb we headed for the air conditioning of the shopping center and then  had a nap under a shady tree. We drank a whole bunch of beer later in the evening and mucked around in the camp ground.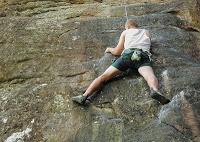 I woke up Sunday with a massive hangover and the others weren't a lot better. It wasn't quite as warm as Saturday which was nice. We fittingly headed to "Hospital Rocks" for some easy climbing. Stefan and Alison managed to climb Little Boxer Girl (11). I tried the next route over but after stick clipping the first bolt I realised I was too hungover to even get off the ground. I think Joe was happy not to have to belay me as well. We headed back to Canberra at 11am pretty buggered.