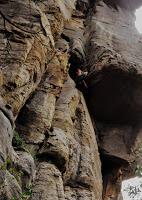 Start of second pitch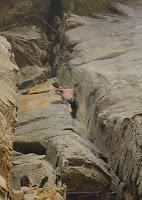 Maybe the crux
On a Saturday morning a couple of mates and I headed out to Bundaleer from Halls Gap for a bit of climbing. It's about a 15 minute drive followed by a ten minute walk up to the foot of the crag. It was very humid on the day just after some massive downpours in the area. Only two of us actually had the stomach for climbing after some fairly heavy down pouring of our own the night before.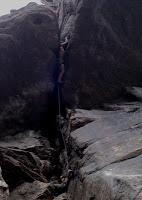 We decided to climb Basilisk Direct which is a great looking route up a steep wall and then through a roof following a large crack. I led the first pitch up to the level of a roof on the right. I decided to scramble across to a ledge on frog for an easier belay. Once Lee had seconded the pitch I stepped back onto Basilisk and up the sidewall of the overhang. Further up there is sort of a thin double crack which I think is the most challenging part of the climb. It is protected by an old bolt but will take a bit more pro if you need it. I belayed from a small ledge just below the large overhang.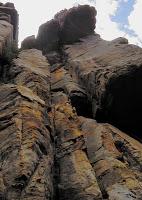 The roof squeeze
Lee cleared the second pitch and after a brief period of musical chairs on the ledge I began the final pitch. At fist it was a bit daunting but once I actually got my head up into the crack I realised it was wide enough to squeeze through. This meant that I could climb through the roof without having to hang beneath it too much. Larger people wouldn't be so lucky. I squeezed through the gap until it constricted too tightly for the pro on my harness. I then grabbed a good hold ad dropped my hips out the bottom of the crack so that my legs were dangling in space. It was then easy to get a leg up and chimney up and out of the crack.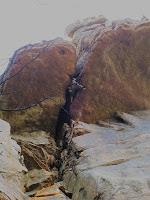 Lee seconded with a record amount of climbing noises. I  think this was a combination of the awkward squeeze, my awkward pro and his hangover. He eventually popped out the hole at the top to finish the route. We enjoyed the view for a bit before scrambling and rapping back down. Basilisk is a pretty good climb with a mixture of exposure, excitement and fairly easy climbing.