during this last years I have got more and more interested in the history of my surroundings and, as this is a little place where people easily get to know each other,
I have had the pleasure and the honour to make acquaintance with authors of  books
of the history of Lake Garda.
this is the last book in my "liberary",
 a gift from Fabio Gaggia, the author and also a dear friend.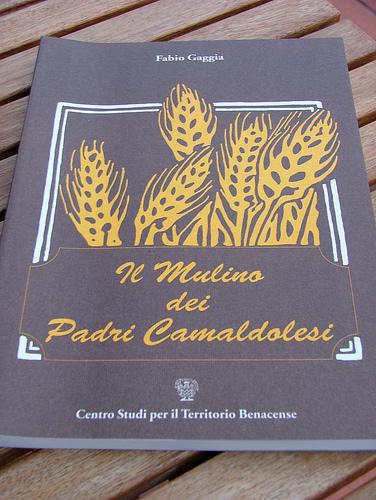 it is a story of a flour mill, but also the story about a Monastery
the Monastery of San Giorgio and the Monastic community of Camaldoli
the story of the flour mill and it's owners starts in the 9th Century A.C
the first notes that was found is in a "contract" dated 862 A.D.
and the last one is with the beginning of Second World War, when the flour mill
definitively stops working.
over one thousand year ofvicissitudes of people around this flour mill.
stories of birth, death, love stories, quarrels, war and peace.
and the mingle, the heart, the center of all this is the flour mill.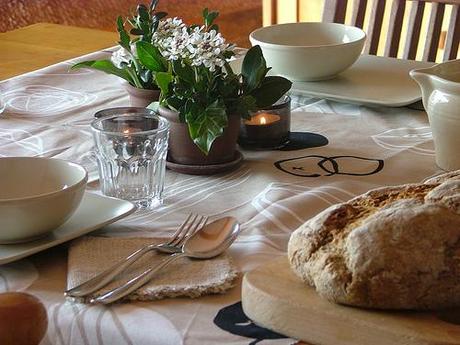 I bake our bread for at least 10years now, I started because our daughter
Gokki (daughter n° 3) was allergic of a bunch of things.
now she better but I still make our bread.
usually it is a durum wheat bread, but sometimes it is
Whole wheat bread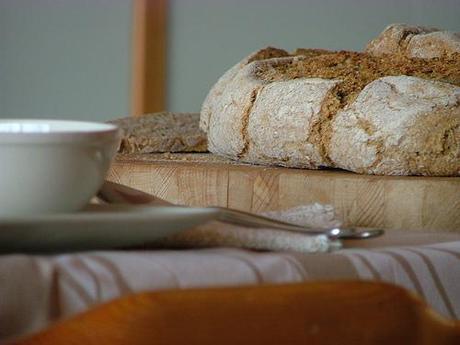 you need:
900gr of water
1.200 kg of whole wheat flour
plain flour q.b.*
5gr of fresh yeast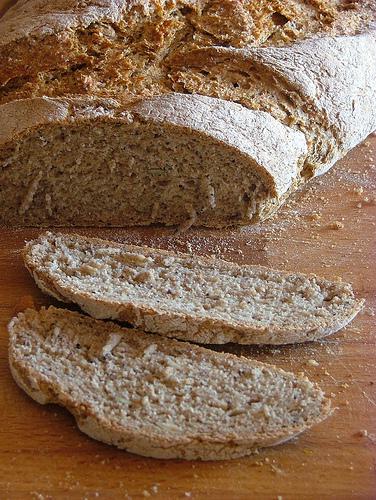 melt the yeast in the water. add the whole wheat flour and the white one until
you have a dough that is sticky but firm.
it is good if it is sticky, this helps the dough to rise.
cover the dough with plastic film and let rise in a cool place for 12-14hours.
the spill out the dough on a baking tray covered with baking paper
bake in oven 250°C for 30min then lower to 190-180° C for other 40min.**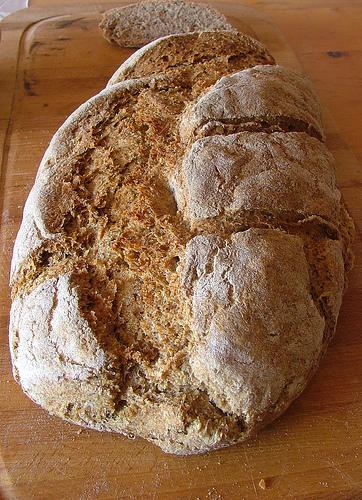 brigida_ate:
* I usually start with the water and then add so much flour the water "asks" for
it is different every time, because it depends on what flour I use
all flour is different and absorbs differently. this dough is important it remains sticky, that will give you the softness insides.
** I start from a cold oven, and high heat. this gives me the crunchy crust.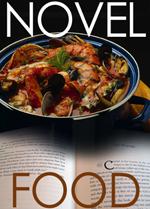 This is my contribution to the12th edition of Novel Food, the literary/culinary event that Lisa ofChampaign Tasteand Simona of Briciole have been co-hosting for some time. It all started from a conversation on the food in theMontalbano's novels, which gave us the idea of marrying literature and food ina blog event