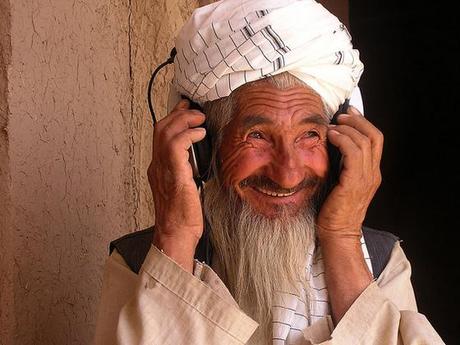 Mountain2Mountain is a non-proft dedicated to promoting the ability for women and girls to act as catalysts of change in developing countries across the world. The organization sees women as an underutilized resource in nations that refuse to grant them rights and privileges due to outdated views on gender roles. Founded in 2006, M2M first began working in Afghanistan, where the organization has already opened many opportunities for females that didn't exist even a decade ago.
Last year the organization inspired many with a powerful photo exhibit entitled Streets of Afghanistan. The images used in the exhibition were captured by 11 prominent Western and Afghan photographers, including Farzana Wahidy, the first female Afghani photog to work for international wire services such as the Associated Press. The exhibit displayed the life-sized photos in such a way to portray a street scene in Kabul and using kites, music and video, vewers became immersed in the culture of the place.
By all accounts the exhibition was a big success, helping to dispel stereotypes of modern Afghan life. Now, Mountain2Mountain are hoping to take the same exhibit home to the Afghani people and as such they've launched a Kickstarter program with the hope of raising funds to do just that. The group hopes to raise as much as $20,000 to help pay for the costs of moving the art exhibit to Afghanistan. Those costs will offset production, transportation and security in Kabul.
For more information on Streets of Afghanistan checkout the Kickstarter page, which also has some amazing sample images as well.