NO N-Zero Extreme by Cellucor is a creatine & sugar free pre workout supplement. Now I tried this for the first time yesterday and made a YouTube video about it talking about how the taste,effectiveness and mixability was. It's got a lot of great things going for it so I thought I'd make a proper review. Lets find out my personal first time use of NO N-Zero Extreme by Cellucor!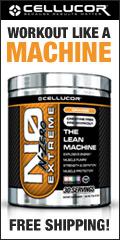 NO N-Zero Extreme
NO N-Zero Extreme
Taste: 6/10
Having only tried this once I can say that the sugar aspect of this product is obviously removed which meant the taste suffered as well. I got to experience the fruit punch flavor and while it wasn't necessarily terrible, I didn't necessarily enjoy the flavor as much as I do C4 Extreme.
NO N-Zero Extreme
Effectiveness: 6/10
It's hard to judge the effectiveness on this product, simply because I've only had one use so far. I experienced a somewhat crash effect while taking this product. I was starting to feel actually sick and almost thought I was going to throw up at one point however I didn't. It didn't give me the tingling effects that I usually get with C-4 but that was probably due to the fact that I only had one serving and with C4 Extreme I am using 1.5 servings. Overall I think you can't really judge effectiveness on this product for at least two weeks after starting use.
NO N-Zero Extreme
Mixability: 7/10
This didn't mix quite as well as I would've liked. I don't know if there's a different blend in ingredients or what. I actually had a little tiny clumps inside of my drink it wasn't a major issue but it definitely wasn't flawless compared to how some others Cellucor products mix. It may have just been my sample serving that I had but overall the mix for me wasn't deal breaking by definitely noticeable.
NO N-Zero Extreme Value:
6/10 Regular 7/10 with our Promo Code
NO N-Zero Extreme only comes in 30 servings size right now. However if you buy from Cellucor.com using our promo code you will save 20% off and get free shipping if you're in the United States making this value go up from 6 /10 to 7/10 on value scale. You'll be paying $47.99 with our promo code versus the retail price of $59.99. You're going to be getting this cheaper than bodybuilding.com or GNC.com.
Summary
In closing, I would have to give NO N-Zero Extreme by Cellucor a 7/10 final rating. I think if I switch over to this product instead of C4 that it would work fine as well since the ingredients are there that really matter. This pre workout is for individuals wanting to keep a lean physique and not have a pre-workout that has creatine already inside. Not only that but the sugar is removed so you don't have to worry about added sugars in your diet. If you're wanting to get this for yourself please visit Cellucor.com and before check out put in promo code 'nuwave' which will give you 20% off and free shipping in the USA. If you're interested in trying out this product please e-mail [email protected] and we'll see if we can send you a free serving sample in the mail. Please including your full name, mailing address and why you would like a free serving sample. Put 'requesting no n-zero sample' in the header so we can sort out individuals.
I hope you enjoyed the review of NO N-Zero Extreme, if you'd like to watch our youtube video of this product please enjoy it below!