2020 has been a difficult year for mountaineers. With the Himalaya and Karakoram almost completely shutdown, there have been only a handful of expeditions to follow all year long. But that is about to change, as no fewer than three teams have announced plans to attempt K2 this winter, with some talented and tough climbers set to arrive in Base Camp in just a few weeks time. Among them will be high altitude sensation Nirmal "Nims" Purja, who is looking to add to his already impressive resume.
Project Possible 14/7
For those who may have forgotten-or didn't follow along in 2019-Nims Purja climbed himself in the records books with what he called "Project Possible 14/7." The goal of this undertaking was to climb all 14 8000-meter peaks in just seven months time. Considering that previously no one had accomplished that feat in fewer than seven and a half years, this was an audacious plan to say the least.
In the beginning, Purja's plans received only a sprinkling of attention from the mountaineering media. While many lauded his grand ambitions, few gave him a chance to actually accomplish his objective. After all, the level of endurance required to climb all of those mountains seemed out of reach for mere mortals and even if a climber was experienced enough and fit enough for the challenge, there were still so many logistical things that could go wrong. But in the end, Nims proved everyone wrong, reaching the summit of the tallest mountains on the planet in record time, becoming somewhat of a media darling along the way.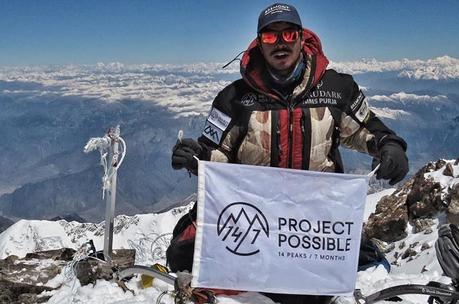 Photo Credit: Nims Purja/Project Possible
The Next Personal Challenge
Following Project Possible 14/7, there were a lot of questions at to what Nims would do next. Since wrapping up that major undertaking, he has become a professional guide and has led a few expeditions in the Himalaya, although COVID-19 has certainly kept those excursions to a minimum. And while guiding has been a rewarding experience for him, Purja has also looked for his next personal project to challenge himself as well.
Last week, he revealed exactly what that project would be on his website. Calling it " the last great mountaineering challenge," Nims announced that he will attempt to climb K2 this winter in an effort to become the first person to accomplish that feat. Despite many mountaineers trying, no one has yet managed to stand on the mountain's lofty summit during the harshest season of them all. That makes K2 the only 8000-meter peak to still hold that distinction.
The Savage Mountain
Despite the fact that K2 is 237 meters (778 ft) lower in altitude than Everest, it holds a much more revered place amongst high-altitude mountaineers. Thanks to its far steeper and more technical route, not to mention harsher and less forgiving weather, the success rate on K2 has been considerably less. Case in point, to date approximately 400 people have climbed the Pakistani mountain, as compared to the more than 9000 who have stood on top of Everest.
Because of its extremely high level of difficulty, K2 is far deadlier than Everest as well. Despite what the mainstream media would lead you to believe, Everest is relatively safe with a death rate below 1%. In other words, fewer than 1% of the people who climb the mountain actually die on its slopes. Meanwhile, on K2 that number is closer to 25%, which translates to 1 in 4 climbers perishing on the climb. That has earned it the moniker of "the savage mountain" amongst mountaineers.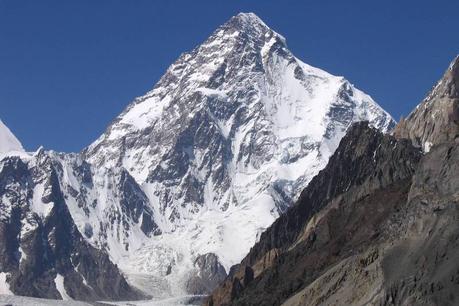 Photo Credit: Say123 (via WikiMedia)
K2 in Winter
As difficult as K2 is during its traditional climbing season in July and August, it has proven to be even more challenging during the winter months. So far, the mountain has turned back all attempts to reach its summit during that season, with most expeditions failing to even reach Camp 1. The combination of extreme cold (temps often drop below -100ºF/-73ºC), high winds (100+ mph/160 km/h), and heavy snow make any attempt a difficult and dangerous one.
Over the past few winters however, there has been an increasing number of teams interested in giving K2 a go in winter. In fact, there have been teams in Base Camp during that time of year for the past four years and counting. This year, Nims Purja will be a part of one such squad, although at this point it is unclear whether he'll be leading his own group of climbers or will join another one instead.
Crowded Base Camp
For the 2021 winter climbing season, there are several teams expected to be in BC. A strong and talented group of Polish winter specialists have been planning such an expedition for more than a year, while Icelandic climber John Snorri will join Pakistani climbers Muhammad Ali Sadpara and his son Saijid on the mountain. In fact, Snorri has already arrived in Islamabad with the intention of reaching Base Camp before the official start of winter on December 20.
Nepalese climbers will be well represented on K2 this winter as well. Mingma Gyalje Sherpa is bringing an experienced group of Sherpas with him for instance, while Seven Summit Treks seems to be taking the "go big or go home approach." The claim to have a squad that consists of approximately 45 climbers, all of which will be working together to achieve the summit.
Whether or not Purja is joining one of these teams or forming his own remains to be seen. But in his announcement last week he remarked that he is looking for sponsorship for the expedition. During Project Possible last year, Purja proved himself to be an excellent logistics and fundraising guy as well.
Will 2021 Be Any Different?
With so many climbers heading to K2 for the winter, it would seem like it is only a matter of time before someone reaches the summit. But in order to do so, a long and favorable weather window will be needed. That is what has stymied previous attempt, as the weather is often bad for days or weeks on end. And when conditions do clear, it is usually on for a day or two at most. Add in heavy snow on avalanche-prone slopes and becomes clear why the mountain remains unclimbed in winter.
With a mountain as unpredictable and dangerous as K2, sheer numbers along won't win the day. Any team that hopes to be successful will need to be strong, tough, and and experienced of course. But they'll also need to be patient and persistent too. We're about to see the most serious siege to the mountain that has ever been conducted, but that alone doesn't ensure success.
Stay tuned for updates.