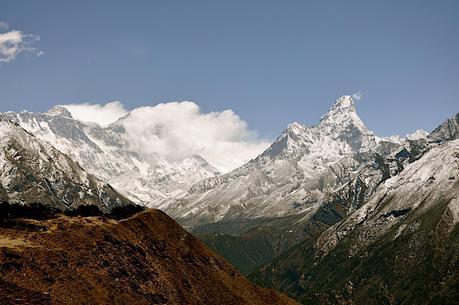 Just as the Himalayan busy spring climbing season is about to wind down for another year, Nepal has announce that it is opening 104 new mountains in a bid to lure more foreign climbers to the country. Many of the new peaks have never been climbed before, which should add an allure for mountaineers looking to add a first ascent to their resume.
The announcement came yesterday, when Tourism Ministry official Maddhu Sudan Burlakoti revealed the list of newly opened mountains, which include the 7680 meter (25,200 foot) Hillary Peak and the 7915 meter (25,970 foot) Tenzing Peak, named for the first two men to summit Mt. Everest. Also included on the list is Yulang Kang (aka Kangchenjunga West), which stand 8505 meters (27,903 ft) in height.
Nepal is, of course, home to eight of the 14 tallest mountains in the world, not the least of which is Everest itself. The hope is that by opening these other mountains, the country can attract more mountaineers each spring, and maybe even alleviate some of the overcrowding that has become so common on the world's highest peak. It is doubtful it'll have much success in that area however, as most of these other mountains are nameless 6000 and 7000 meter summits that will generally only hold appeal to hardcore mountaineers looking for new challenges.
The announcement does underscore the abundance of big peaks int he Himalaya however. To put things in perspective, there are 53 "14ers" in Colorado, which is to say, 53 mountains that exceed 14,000 feet or 4267 meters. Nepal just added nearly twice that many mountains to those that are available to climb, and I'd be willing to bet that all of them exceed the 14ers by a good margin. It is a blessing of riches for climbers to say the least.
The article doesn't say when exactly these mountains will open, but it is likely that permits will be available for the fall climbing season. With the annual monsoon now just days away, climbing in the Himalaya will cease for the summer. But once the rainy season passes, there will be many new options for ambitious alpinists to explore.